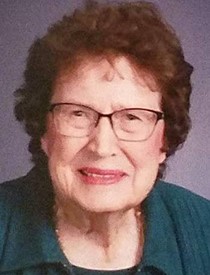 Gale L. Kambitsch
9/15/1927 — 9/5/2021
Gale Louise Kambitsch, 93, passed away Sunday, Sept. 5, 2021.
She was born to George and Eleonora Weber on Sept. 15, 1927. She had one brother, Dale. The family raised spuds in the Idaho Falls area. She was a wealth of stories and family history. I expect one of her favorites was of how she used to ride a horse to get to school, through snow drifts deep as the power poles.
After the early years in Idaho Falls, she moved on to Washington State University where she graduated with a degree in home economics. Ultimately, this put her in the situation of meeting Loren Kambitsch, who was the county agricultural agent in Benewah County at the time.
She married Dad in 1950. They lived in the beautiful mountain town of St. Maries for six years. This is when they had their first son, Bob. Life moved on to Lewiston where they had their second son, Don.
Mom became involved with the Lewiston community and was affiliated with Welfare League, Mothers Club and a variety of other associations. Mom and Dad were both in the group of neighborhood folks that started the tradition up and down the street of "Candy Cane Lane." It can't go without mention that she was a 4-H leader for 20 years. Her true passion was for the P.E.O. sisterhood. She was proudly involved with that organization since 1953. She was elected to the State Executive Board in 1978 and served as state president in 1982-83.
Mom had become a member of the Presbyterian Church in 1936. She had a deep relationship with God, the church and all it represents. The friendships she made were also very important to her.
Love of family and being with family was at the center of her life. The first thing she would always want to know was "How's the family?" Her memory will be with Don, Dar, Danielle and Drew; with Bob, Tina, Ellie, Charlee and Will; Stephanie, Lee and other extended family members.
She would tell us all to "take time to smell the flowers."
A private graveside burial will take place at a later date.
Offer Condolences