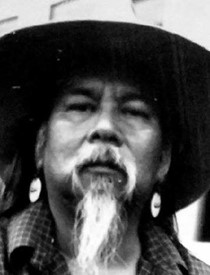 Gaylen K. Broncheau, Sr.
8/20/1952 — 9/28/2017
Gaylen K. Broncheau Sr., 65, of Spalding, passed away the morning of Thursday, Sept. 28, 2017, in Anthony, Texas.
He was born Aug. 20, 1952, in Lewiston, to Leo Augustino Broncheau and Marietta Alvina Powaukee. He spent his childhood living in the Broncheau home in Spalding, where the family began. He attended school up the road in Lapwai. He spent his spare time roaming the surrounding area of his home on the Clearwater River. Gaylen also learned to war dance at a very young age. He was taught how to assemble his own full regalia, from his moccasins to bead work clear down to the bustles, bells and fans. He also sang on the family drum as well as other drums. He knew all the old songs, beliefs and traditions. He learned a lot from taking care of his elderly uncles, who resided in the Broncheau home as well. Soon Gaylen would use his skills and knowledge of his traditions and began traveling the pow wow circuit and made a name for himself across Native America.
On May 25, 1971, he graduated from Lapwai High School. After he graduated, he journeyed south to Santa Fe, N.M., where he attended art school for a short time. After he returned home, he met his first wife, Rhonda Crawford, of Portland. They married and had two children - one girl, Dana Loretta Broncheau, and a boy, Gaylen Keith Broncheau Jr. They stayed in Spalding for some time and later would divorce and part ways.
Then he met his second wife, Mary Elizabeth Williams, of Tacoma, in March of 1984. They had two children as well - a girl, Sophia Amelia Broncheau, and a boy, Jonathan Ryan Broncheau Sr. Mary had a son from her previous marriage, Adrian Robert McArthur, who Gaylen loved and thought of like his own. Mary and Gaylen have celebrated 38 years, living in Spalding at the Broncheau home. Gaylen has 13 grandchildren: Gaylen III, Raevyn, Dane, Destin, Adrian, Valentino and three girls (from Keith); Sydney (from Dana); Jonathan Jr., Cleveland, (from Jonathan Sr.); Izabelle, Jacob (from Adrian); and Isyss and Claudia (from Sophia).
Gaylen was preceded in death by his parents and sisters, Bernie and Cynthia "yuk." He will be remembered as an outgoing, happy and very wise man. He will greatly be missed and will forever remain in everyone's hearts.
Services will be held at 2 p.m. Wednesday at the Pi-Nee-Waus in Lapwai. Dressing will follow by 7 Drum. There will be a light dinner, open denomination and slideshow, followed by 6 p.m. services and midnight traditional dinner. Thursday will begin with 7 Drum and sunrise burial at the Broncheau Cemetery, followed by dinner and a giveaway at the Pi-Nee-Waus. For more information and/or details, contact Jonathan Broncheau Sr. at (208) 305-5759 or Mary Williams (208) 305-1193.
Service Information
Date & Time

Wednesday, October 4, 1:00 PM

Location

Pi Nee Waus Community Center
Corner of Main Street & Birch Avenue
Lapwai, Idaho 83540

Get Directions
Offer Condolences