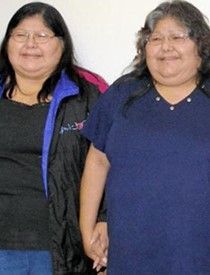 Georgia Higheagle Barros
2/21/1955 — 1/31/2019
Georgia Barros, 63, a member of the Nez Perce Tribe and the Higheagle family, passed away Thursday, Jan. 31, 2019, at St. Joseph Regional Medical Center, surrounded by her family and covered in love and prayer.
She was the second-youngest child of Daniel and Louise Higheagle, born 15 minutes before her twin sister, Georgine, on Feb. 21, 1955, in Lewiston. She was part of a large family that included her older brothers and sisters, Larry, Ronald, and Elaine McFarland; Carol Raboin; and Patricia, James, Sandra, Anthony and Gordon Higheagle.
Her siblings were always there to help care for the "Twin," which they did faithfully (on Earth or in heaven) through her final days. Georgia talked about how strongly she felt the presence of her parents and twin sister during her illness.
She grew up in the family home on Lapwai's Main Street that was known to be a happy and loving place. Dan and Louise showed their children how to find purpose in life through their family, faith, culture and community involvement. The families of their neighborhood looked out for each other's children, who would have many adventures together and form lifelong friendships.
She attended school in Lapwai, where she was active in basketball, softball, Indian Club and Upward Bound. She often was a traditional dancer at pow-wows and cultural programs at Spalding Park. Georgia was queen of the E-peh-tes pow-wow in 1972. One of the highlights of her school years was traveling to France with Reva Luvaas' Spanish class.
Georgia graduated from Lapwai High School in 1973. She was a bright and motivated student, so continued her education at the University of Idaho and Lewis-Clark State College. As an adult, she enjoyed bowling, a wide range of cultural activities and time spent with family and friends.
She spent many years helping to raise her beloved nieces and nephews. They appreciated her as a second mom who often showered them with love, gifts or trips to the drive-in movie. Georgia had an especially close relationship with her nephews, Mike and Larry Jr. (Yogi) McFarland. Since they were only one to two years younger than her, Georgia said they were more like her brothers.
The best day of her life was April 2, 1981. Her life became complete when her son, Daniel Joseph, was born on this day. She was a devoted mother who worked hard to give Daniel a wonderful life. Her son is thankful for the way she raised him and for her unconditional love and support.
Georgia expanded her love for Daniel when she became the proud grandmother of his son, Michael Bear. Grandma Georgia would want Michael to always remember how special he is and how much she loves him.
On Jan. 11, 1994, she married Mike Barros. They made their home in Lapwai. The couple shared many good years and memories together. They would later separate.
Some of her earlier jobs included the Tribal Work Experience Program (TWEP) and Toppenish School's JOM Program. She worked for 30 years for the Nez Perce Tribe, starting as a parent coordinator for the Head Start Program for a short time. Eventually, she settled into the career she loved with the USDA Food and Nutrition Program. Georgia started as an office/warehouse worker for 10 years before becoming the director for 20 years until 2014. She was active in regional and national USDA Food and Nutrition committees that advocated for Native Americans.
Georgia is survived by her son, Daniel Higheagle, of Lapwai; grandson Michael Bear, of Lapwai; granddaughter Mayalu Spencer, of Lapwai; her sisters, Carol Wheeler, Sandra Higheagle, Rosa Yearout and Evelyn Higheagle, all of Lapwai; brothers Gordon Higheagle Sr. and Kevin Ellenwood Sr., all of Lapwai; numerous aunts, uncles and cousins; and dozens of nieces and nephews and their children and grandchildren.
She was preceded in death by her parents; her paternal grandparents, Antoine and Josephine (Luke) Higheagle; her maternal grandparents, Linus and Emma (Pinkham) Matthews; brothers Francis John McFarland, Larry McFarland Sr., Ronald McFarland, Anthony Higheagle Sr. and James Higheagle; sister Georgine (Higheagle) Fiander, Patricia Higheagle and Elaine (McFarland) Ashlock.
Public viewing will start at 11 a.m. Tuesday at Sacred Heart Catholic Church in Lapwai. The holy rosary will be recited at noon, followed by a funeral Mass at 1 p.m., celebrated by the Rev. Brad Neely of All Saints Catholic Church in Lewiston.
Burial will be at Jonah Cemetery near Sweetwater. Vassar-Rawls Funeral Home of Lewiston is in charge of arrangements.
Offer Condolences