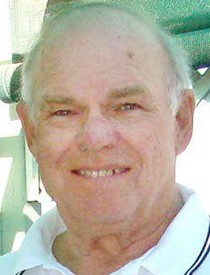 Gerald V. Berg
6/14/1937 — 5/12/2019
Gerald V. "Jerry" Berg passed away Sunday, May 12, 2019, at his home in Lewiston, surrounded by family and friends.
Jerry was born June 14, 1937, in Sebeka, Minn. He was preceded in death by his parents, Raymond V. and Edna C. (Alfson) Berg of Sauk Centre, Minn. He is survived by his wife, Sandra (Witham) Berg of Lewiston; sister Joanne (Gene) Larson of Faribault, Minn.; daughter Dianne (Mark Jones) Phillips of Lewiston; son Raymond (Chantal) Berg of Rhinebeck, N.Y.; grandson Nick (Jen) Phillips of Salt Lake City; granddaughter Kali Phillips of Lewiston; granddaughter Kate Berg of New York; great-granddaughters Ellie and Emily; and numerous nieces and nephews.
Jerry was an avid golfer, woodworker and reader. While living in Minnesota, he was the founding president of the Lebonon Hills Men's Golf Club in Apple Valley, Minn. He also served for six years on the executive board of the Minnesota Public Golf Association (MPGA), where he helped organize and run statewide golf tournaments.
Jerry was an outgoing, kind and generous man. He was always friendly and loved visiting with people. He graduated from Alexander Ramsey High School (Minnesota) in 1955 and went on to college, first at St. Olaf College in Northfield, Minn., then transferred to the University of Minnesota as a math major.
He worked in the data processing area of the banking industry, retiring from Alltel Corp. in 1997, when he moved from Southern California to Lewiston. He worked mainly in management and was an excellent people manager who trusted his employees to make decisions, supporting them whether the decisions failed or succeeded. He taught them to learn from their mistakes and grow in their own careers. He was a loving father and grandfather who supported and encouraged his family to be the best that they could be. He was so proud of his family.
We would like to thank Dr. Peterson of Valley Medical Center and Jennifer from Elite Home and Hospice in Clarkston for their excellent care.
A funeral service will be at 11 a.m. May 27 at Vassar-Rawls Funeral Home. In lieu of flowers, the family suggests memorial donations to either Habitat for Humanity or St. Jude Children's Research Hospital.
Service Information
Date & Time

Monday, May 27, 11:00 AM

Location

Vassar-Rawls Funeral Home
920-21st Avenue
Lewiston, Idaho 83501

Get Directions
Offer Condolences