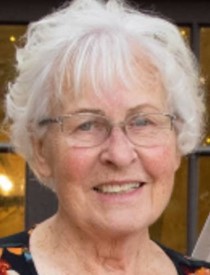 Gisela Troy
10/20/1939 — 7/7/2021
Oct. 20, 1939–July 7, 2021
———
It's difficult to put into words how much love we have for the most wonderful mom and grandma kids could ever be blessed with. Gila was someone who always made us laugh. Sometimes the laughter came years after the loving German discipline we often needed.
Gisela Harms came to Lewiston from Germany to work in 1962 when she was 23, with plans of staying for only one year. She told us that when she arrived, she thought she had landed on the moon, Germany to Lewiston was quite the culture shock. She met Dave Sr., fell in love and spent the rest of her life loving her family here. She passed away peacefully in her sleep surrounded by her adoring family.
Gila was involved with many charities and clubs in her youth. She always loved the German Club and the Service League. She worked for many years at Troy Insurance, first with her husband Dave Sr. and then with her son, Dave Jr. Gila loved spending time with her four grandchildren. Her favorite thing to do was going to her cabin on Lake Pend Oreille. We all have such beautiful memories of the little cabin at the lake.
She is survived by her brother, Peter of Germany; son, David; daughter, Lillian; grandchildren, Thomas, Amanda, Madeline and Maxwell; and great-grandchildren, Elijah, Eden and a bundle of joy, blessing us all in December 2021; daughter-in-law, Caroline and her daughters Marie and Mollie; and son-in-law, Craig. She also has many nieces and nephews in Lewiston, Spokane and Germany.
We will miss this amazing woman, who helped shape us into the people that we have all become. We thank God we have such fun memories of times we have had through all the years. We are at peace knowing you are in Heaven with your Lord and Savior and with your soulmate, giggling with Dad today and forever more. God bless you both, rest in peace.
A graveside service will be held at 10 a.m. Friday, July 16, at Normal Hill Cemetery. It is open to anyone wishing to pay their respects. Donations can be made to The Northwest Children's Home in Lewiston or to the Normal Hill Cemetery and Arboretum, in care of Lewiston Parks and Recreation, for beautification plantings in Gila's name. She always loved her flower garden.
Service Information
Date & Time

Friday, July 16, 10:00 AM

Location

Normal Hill Cemetery
1122-7th Street
Lewiston, Idaho 83501

Get Directions
Offer Condolences