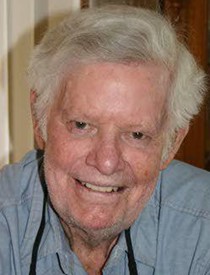 Gordon Edward Van Scotter
3/7/1923 — 2/3/2019
Gordon Edward VanScotter, a distinguished 95, died peacefully at St. Joseph Regional Medical Center on Feb. 3, 2019.
Gordon was born March 7, 1923, in Lemmon, S.D. to Clarence and Mary (Voshal) VanScotter.
He is survived by his children Davis (Peace) VanScotter, Retta (Dean) Fleming, Gordon E. (Ed)VanScotter Jr. (Queta), Molly Sauerbier VanScotter, Donna Rokstad, Randy (Pam) Forcier, Lynnette (Ron) Rowden and Terry (Cindy) VanScotter; 22 grandchildren; 33 great grandchildren; and one great-great grandchild!
When Gordon was 19 years old, he joined the Army. He served in the 146th Combat Engineering Battalion. Gordon volunteered to land on D-Day with a composite group from other units. During their approach to the beach, in the first wave of attack, the landing craft was sunk by enemy fire. He had to cut himself free of all his gear to swim to the top of the water. Four years in the trenches, Gordon has seen a lot: the Battle of the Bulge, the Black Forest and helping liberate concentration camps left behind.
After the war, Gordon drove his Indian motorcycle to claim the love of his life, Georgia Agnes Schock, from Billings, Mont. They moved to Spokane, and Gordon enrolled at Gonzaga University on the G.I. Bill. Their family started to grow. The Army would pay only so much for his children being born, so he painted the doctor's houses to pay off his debt. Mr. VanScotter graduated from Gonzaga University in 1952 with a civil engineering degree.
Gordon built the family home in Walla Walla and worked for the Corps of Engineers. He helped design the dams on the Columbia River.
In 1968, the family moved to Khamis Mushait, Saudi Arabia. He was the chief engineer for the American side in charge of building the military base. A few years later, they relocated to Clarkston. Our loving mother, Georgia, passed in 1971.
Gordon re-married the second love of his life, beautiful Kathleen Mulcahy Forcier. Again, moving back to Saudi Arabia to work for Parsons and Airways Engineers. This time in Jeddah, where he was the chief engineer in building the international airport that Jeddah uses today.
Our father always said that the key to a long life was to get up every morning and work, even after retirement. "Keeps a mind sharp!" He built several homes in the Clarkston Heights and a beautiful cabin in Orogrande, Idaho. Gordon was known for his kindness and generosity. He had lifelong friends in Clarkston, Grangeville, Orogrande, Elk City and all over the world!
Gordon was honored by Gonzaga University on veterans weekend 2018. He was awarded an autographed game ball at center court.
He was preceded in death by his parents, Clarence and Mary VanScotter; two wives, Georgia and Kathleen; three sisters, Betty, Mary Ann and Molly Williams; two brothers, Alvin and Hank VanScotter; one son, Kelly VanScotter; two grandchildren, David VanScotter and Heather Mogg; and great-granddaughter Savanna Rhett Harding.
There will be a celebration of life for both Gordon and Kathleen VanScotter at 2 p.m. July 6, at his cabin in Orogrande on Crooked River Road.
Service Information
Date & Time

Saturday, July 6, 2:00 PM

Additional Details

There will be a celebration of life for both Gordon and Kathleen VanScotter at 2 p.m. July 6, at his cabin in Orogrande on Crooked River Road.
Offer Condolences