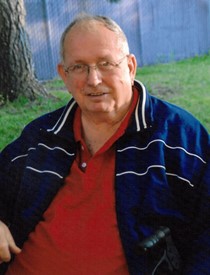 G. P. 'Jerry' Bickerdyke
8/21/1941 — 7/10/2022
G.P., known by his family and friends as Jerry, was born Aug. 22, 1941, in Camden, N.J., to Harold Gerald and Florence Charlotte (Hillman) Bickerdyke. He was the oldest of two sons. Jerry was a precocious and inquisitive boy, fascinated with nature and how things worked. One of his early joys was fireflies. He was not satisfied with simply admiring them; he wanted to know what made them glow.
As a child, Jerry spent many hours and days in libraries and bookstores, learning everything about what caught his attention. When he became curious about an object or concept, he diligently began to look at it from all angles and sides, frontwards and back. He would not rest until he had a clear understanding of how every component functioned and tied together with the other parts.
Shortly after his family moved to California, Jerry received a BB gun for his 8th birthday. This BB gun was precious and dear to Jerry, and he gently took great care of it into his adulthood. He then passed it on to his family as an heirloom. In high school, with a mophead of bright curly red hair, he shared his passion for music with his classmates by spinning records during lunch and other free times. It was during one of these impromptu sock-hops that he met the woman who would become his wife. He also spent a great deal of his adolescence caring for his younger brother, as his mother became quite ill.
After high school, Jerry enrolled in college but soon found it to be boring. He was more interested in following his own curriculum and studying the things that truly interested him. It was during this time that he began to work at a toll company, making his way into a department that was the forefront of telecommunication technology for that time. The company he worked for was a sub-contractor of Pacific Bell, which was later acquired by AT&T. The parent company was so impressed by Jerry's talent they recruited him. That was the beginning of him blazing his way up the corporate ladder, with his insight and ingenuity. He quickly solved problems by carefully analyzing them from the inside out and methodically finding solutions. He was instrumental in staging the circuits of cables responsible for the first transpacific call from Australia to California.
During this time, Jerry married that young lady from high school, Karen Jan (Holm) Bickerdyke, in 1961. Their daughter, April, was born within a year, and shortly after, they had a son, Robin. Karen was a member of the Church of Jesus Christ of Latter-day Saints and introduced the faith to Jerry. They both agreed that the children would be reared in a spiritual home, but Jerry was resistant of the LDS Church initially. He was challenged by the local Bishop to pray about it and during that prayer he received testimony. He was baptized on March 20, 1964.Later, he was ordained an elder, executive secretary for three bishops, responsible for finance and auditing of the church. He was also very involved in The Family History Center, where he served as director for many years.
Unfortunately, Jerry's marriage to Karen ended in 1974. He later married Dinah Suzanna (Leasure) Bickerdyke, mother of their two daughters, Linda and Christine. They made their home in Calaveras County, Calif. As with his first marriage, he found a property on which to build his family a home. He and Dinah parted ways in 1984. However, he lived on that property and in that home until 1990, when he moved to Lewiston.
In May of 1985, in North Carolina, Jerry married Lorna May (Dahill) Bickerdyke. He had met Lorna through the church and together, they raised her five children from a previous marriage, Jack, Daniel, Gary, Elizabeth and Rachel. Jerry legally adopted four of those children. They made their home in San Andreas, Calif. In 1990, at the age of 49, Jerry retired from the telecommunications business, and he and Lorna traveled around, looking for a new place to call home. When they discovered Lewiston, they felt at peace that it was the place.
In 1991, Jerry, Lorna and the children left California for Idaho, in a camp trailer. They purchased a parcel of land that had once been a horse farm. The only structures on the property when they bought it were two horse barns. Jerry began plans immediately to build his grandest house yet. With the help of the children, neighbors and church family, they built a two-story house, complete with full basement and attic. Jerry was the architect and project manager, ensuring that everything was done to his specifications. The only outside contractors he used was in the pouring of the foundation and the roof.
Jerry especially loved the poplar tress on the property and learned that he could plant more by using their stems. He planted enough to create a tree line for one side of his property. He loved working in the yard and tending to animals on the land. His home was the center of family memories for the children and later grandchildren.
Jerry and Lorna dissolved their marriage in 2002, but Jerry remained very much a part of the children's lives. He began to focus on The Family History Center at the church. It was the perfect union of his investigative prowess and his desire to help people feel connected. It was there that he met his "sweetheart," Pat. They were both older and were not seeking romance or marriage, but they enjoyed each other's company so much that they decided to enjoy a movie together. As they were leaving the theater, their hands met, and that was that. Jerry married Patricia Irene (Taylor) on Dec. 6, 2003. They spent the rest of their lives inseparable and with great love and joy in their hearts. He and Pat enjoyed movies, genealogy and having a home that was welcoming to all.
On Sunday, July 10, 2022, Jerry began his day with online church services in his home and later received the sacrament by his ministering brothers. He passed peacefully quickly later that evening.
Jerry is reunited in Heaven with his parents; wives, Patricia and Dinah; son, Robert; and grandson, Ryan.
Jerry will be missed by 14 children, 39 grandchildren, 17 great-grandchildren and three great-great-grandchildren.
Jerry was interned by Vassar Rawls Funeral Home on Friday, July 15, 2022, at Lewis Clark Memorial Gardens, Lot 39, Spot 2, next to his sweetheart, Patricia. Memorial Services will be held at 11 a.m., Saturday, at the Latter-Day Saints Chapel at 16th and Ripon, in Lewiston. Sharing of refreshments and memories will take place afterwards. In lieu of flowers, please go out and plant a tree. Dad loved his trees.
Service Information
Date & Time

Saturday, July 23, 11:00 AM

Location

The Church of Jesus Christ of Latter Day Saints - Ripon Chapel
3810-16th Street
Lewiston, Idaho 83501

Get Directions
Condolences
Dan Bickerdyke
My condolences to anyone who mourns.
Sunday, July 17, 2022 10:10 AM
Offer Condolences