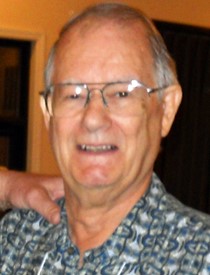 Harry C. Walrath
6/17/1937 — 2/9/2017
Harry Curtis Walrath passed peacefully Thursday, Feb. 9, 2017, at St. Joseph Regional Medical Center, surrounded by his family. Harry was born June 17, 1937, in Orofino, the son of Theodore and Margaret Dickinson Walrath. After graduating from Orofino High School, he attended the University of Idaho and later entered the U.S. Army. Harry was the third-generation owner of the family insurance business, Walrath Insurance Agency, which he managed for 31 years.
In 1979, Neal Johnson joined the agency. Neal and Jeannie Johnson were good friends as well as business partners. When Harry was appointed commissioner of Insurance for the State of Idaho by Gov. Cecil Andrus, Harry and Dorene sold the business to Neal and Jeannie and moved to Boise. For the past six months he lived at the Idaho State Veterans Home, where he enjoyed visiting with other veterans and teasing and joking with the staff.
Harry was always very active in many organizations. He was a member of the Scottish Rite, Calam Temple Shriners, Free Mason, Elks, Jaycees, Rotary, Orofino Chamber of Commerce, Orofino Business Association and even Costco. He was a volunteer on the Orofino Fire Department and was both an emergency medical technician and a level-four trainer. He was a timer for many years at Orofino Lumberjack Days. While his kids were in school, Harry could be seen running the chain at football games, running the clock or keeping score at basketball games and timing at swim meets. After retirement, he and Dorene lived in Fairbanks, Alaska, where he volunteered for the Arctic Winter Games. After moving back to Idaho, he spent time volunteering at St. Joseph Regional Medical Center in Lewiston.
Harry is survived by his wife, Dorene; daughters Lorrie Scoles (Ted) of Hoonah, Alaska, and Casey Youngberg (Scott) of Anchorage, Alaska; and son Michael Walrath (Gail) of Boise. He has six grandchildren and four great-grandchildren. He was preceded in death by his parents and sister Margot Davis.
Services and a celebration of life will be held at 2 p.m. Aug. 12 at Vassar-Rawls Funeral Home. In lieu of flowers, the family requests donations be made to the EMS at Clearwater County Ambulance, P.O. Box 1347, Orofino, ID 83544, which was near and dear to Harry's heart.
Service Information
Date & Time

Saturday, August 12, 2:00 PM

Location

Vassar-Rawls Funeral Home
920-21st Avenue
Lewiston, Idaho 83501

Get Directions
Offer Condolences