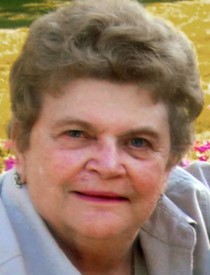 Helen A. LeDuc
5/1/1933 — 8/23/2018
Helen LeDuc passed away at age 85 Thursday, Aug. 23, 2018. Born in Newark, N.J., her family moved to Detroit when she was a child. Following high school, she worked as a dental assistant. Helen married George LeDuc in 1959. With the birth of their daughter she became a full-time mom. George changed employment, and the family moved to Cook, Minn., then to Duluth, Minn., and then Grangeville in 1973, ending up in Lewiston after retirement. Helen is survived by her husband of 59 years, George; daughter Lori and her husband, Don; sons Michael, Lance, David and Mark, and his wife, Cynda, and their two children, Joshua and Shayne.
Helen loved spending time with her grandchildren, and they went on many camping trips with them. She also looked forward to cooking and baking for family and friends and always had something tasty to serve to anyone who came to the house. She had a sweet tooth and especially loved making and sharing fudge, applesauce, grasshopper pie and cheesecake.
Helen was always busy, and if you were ever in the home you'd notice the many crafts she made and displayed around the house. Music boxes, tea sets and magnets from places she traveled were high on her list of items she collected.
Mom loved to travel and took many trips around the states and to Canada. She enjoyed driving through neighborhoods and looking at the houses, especially Victorian style, checking out the local craft shops and eating in restaurants.
Helen also liked animals and had several cats over the years. She filled her yard with feeders for the squirrels and birds, and enjoyed watching them from the comfort of her home. She loved to take drives and watch the wildlife, and especially liked driving to Red River in the spring to see the large elk herds.
The family would like to extend our heartfelt thanks and gratitude to the staff at St. Joseph Regional Medical Center for their loving and tender care of mom in her final days. A memorial service will be held at 11:30 a.m. Saturday at All Saints Catholic Church.
Service Information
Date & Time

Saturday, September 1, 11:30 AM

Location

All Saints Catholic Church
3330 14th Street
Lewiston, ID 83501

Get Directions
Condolences
Kathie Snodgrass
Hi, Leduc clan. Please accept my sympathy for the loss of Helen. Stumbled on her notice by accident when searching for that of another friend, and felt so sad to learn of her passing. Probably none of you remember me, unless George does. I worked for him for years at the Nez Perce National Forest - he taught me all about facilities engineering and was a great mentor. Again, my condolences.
Monday, October 8, 2018 12:59 PM
Offer Condolences