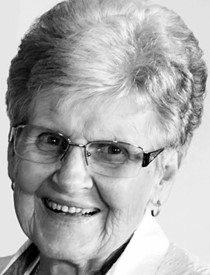 Helen L. Wittman
3/30/1927 — 4/27/2021
The poet Maya Angelou once defined success as loving life and daring to live it. By that measure, Helen Wittman, who died Tuesday, April 27, 2021, of natural causes, could safely be said to have lived a rousingly successful life.
Helen Loraine Herndon was born March 30, 1927, in a small farmhouse on Garden Gulch in Culdesac. She was the middle child of O.L. "Dick" and Cora Herndon. As a toddler, she and her family moved to Mohler, on the Camas Prairie, where her father set out to farm. Itching to be a schoolgirl like her big sister, she began first grade at age 5, where she found herself learning side by side with the kids in all the other grades in a one-room schoolhouse. A precocious student, she found the curriculum of her upperclassmen far more fascinating than her own and often asked the teacher to let her participate in their lessons once she'd finished hers.
By then, the country was in the throes of the Great Depression and farming was not a profitable vocation. In 1934, when the bank foreclosed, the family moved to Silverdale, Wash., where her father found work in the Naval Shipyards. Helen had progressed so far in her education that she was placed in the third grade in her new school. She loved to read, compete in spelling bees, and eventually began participating in school operettas and musical events. Piano lessons followed, and her life's musical path was set. (She often bragged that practicing the piano was her ready bargaining chip for getting out of doing dishes.) She began playing the pump organ for her church as a pre-teen and never looked back, launching an avocation that lasted into her 80s.
Helen's love of words and literature became a springboard for another passion, writing. She edited her high school newspaper and as a teenager published a biography of her grandmother Lilla McNeil Herndon, a tribute to her Herndon and Aschenbrenner roots. She joined every possible club at Central Kitsap High School, was a member of the Honor Society and was adored by all her classmates, many of whom remained treasured friends for life, despite being scattered to the winds. She became a tap dancer, a thespian and a talented figure skater, joining a troupe that performed orchestrated skating revues. Her grace on the ice extended into motherhood, as she taught each of her children how to skate on the farm pond.
She witnessed wartime life and did her patriotic duty during her high school years, working summertimes as a clerk in the naval ammunitions depot. She also volunteered as a USO Hostess and worked as a soda jerk at the local pharmacy, where she honed the fine arts of jitterbugging, milkshake management and flirting with sailors ... all the while earning high grades in school and donating her musical talent to her coastal church community.
In 1945, her father was offered the chance to return to Idaho and farming when Bob and Marvin Wittman had been drafted and the Wittman farm in Culdesac went up for lease for the remainder of the war. Dick Herndon jumped at the chance, and that move delivered Helen, unbeknownst to her at the time, to her future. One fateful day after the Herndons had settled in, Marvin came back to Lewiston on leave and decided he'd like to drive up to the old farmhouse and meet the people who'd leased the ranch. As he recounted hundreds of times over the ensuing years, "I drove up and this gorgeous woman in a red dress came sashaying out, stuck her arm over the gate and said, 'Hi. I'm Helen.' " The rest, he always added, was history.
Helen attended the University of Idaho, where she joined the Kappa Kappa Gamma sorority, she majored in Music Education and dove into her role as reporter for the Argonaut. Again, friendships made there endured for a lifetime, including her sorority sister and future sister-in-law, Joan Wittman, with whom she would bang out rollicking duets on the piano.
When the war ended and Marvin's time as a B-24 pilot was up, the Herndon lease on the ranch ended, but the seeds of love had taken root. Helen joined the Catholic Church, and on June 14, 1948, the figure skater and the cowboy were married at St. Stanislaus Catholic Church in Lewiston, launching a partnership for the ages.
Helen often recounted that when they returned from their honeymoon reality hit her hard. She was met by an army of hungry hired men, including Marvin's two bachelor brothers. Marvin's only request was that Helen learn to make his mother's amazing cinnamon rolls. On her first attempt of that timeless family recipe, the failure was so fantastic she fed them to the horses. Her first dinner for her new mother-in-law featured a dropped gallon of mayonnaise as she nervously constructed a potato salad, and fried chicken served "rare." In time, her culinary aptitude improved, and her main challenge became doubling and tripling recipes for a growing family. She presided over harvest lunches that were five-course tailgate affairs for years, until mechanization and homegrown farm crew supplanted teams of hired hands, and lunch pails became the order of the day. Despite the delicious meals that eventually became her trademark, she persisted in a ritual of before, during and after meal apologies that became legendary, proffering warnings of undercooked or burnt or underseasoned or flat-out inedible foods that were simply not the case. No family meal was ever complete without the apologies.
Helen and Marvin brought eight kids into the romance, filling every room of what had once been a hotel on a stage run up Craig Mountain. They set out to raise critical thinkers and world citizens, and the kids were expected to take part in the discussion. The huge farm kitchen served as headquarters for 4-H meetings, political discourse, homework, canning, sewing and science fair projects, sibling peace negotiations, Saturday cinnamon roll baking (to the strains of the Metropolitan Opera Broadcast), and countless conversations. One time, when she caught the older kids and their cousins planning a little smoking rendezvous outside, she rounded up the lot of them, sat them down at the kitchen table and made them all smoke until they got sick, thus curing any future desire to become smokers.
Helen functioned as mother, mentor, muse and marriage counselor. Her discomfort with annual branding practices inspired Marvin's development of the more humane method of freeze branding. Her fashion sense inspired her daughters to push the pattern envelope and stitch, often for her, the latest looks. Her devotion to her husband made marriage look easy, which proved misleading for some of her brood. When one of her grandchildren got married, she wrote in her journal, "They are so happy. I pray it will always be thus. We all know there have to be a few slammed doors ... ." Helen slammed a few doors, and she adored her husband through thick and thin to the day he died.
Music was Helen's raison d'etre and she had the good sense to give birth to her own house band. She anchored rousing family jam sessions in the music room for occasions ranging from "because it's Sunday" to "we have company." Along with Marvin on guitar, and often including her own fiddler dad, homemade music was the common soundtrack in the house, weaving over time a tapestry of aural memories that her kids carry to this day. She was an accompanist extraordinaire, and musical mentor to innumerable vocalists who still sing her praises. She was the organist at St. Joseph's Mission Chapel, Sacred Heart and later St. James Catholic Church for decades, playing for Masses on Sunday and nearly every funeral and wedding. She would never take payment for her services, but when she refused payment for the special Nez Perce funerals she played for, her beloved friend Louise Higheagle made sure she found a lovely parcel in her car containing Louise's latest beaded creations. Helen kept those. She brought dozens of Lapwai, Culdesac and Lewiston area brides marching down the aisle to Purcell's Trumpet Tune in D, her arms and feet flying across the myriad stops and pedals of the big pipe organs. She was a member of the Hammond Organ Society, serving as president of the Lewiston chapter, where she reveled in the monthly fun of making music with fellow organists. And she was instrumental in the preservation of the antique pump organ at the old Slickpoo Mission Church, bringing full circle her youthful love of that instrument from her childhood Methodist church days.
Helen was a rascal and a competitor of the first order. She never let her husband and kids forget that she was the Eighth Grade Ping-Pong champion, and beckoned all comers to try and beat her. She was the first to spot and challenge a misspelled word, reveling as though she'd just drawn an ace that could win the game. The daily jumble wasn't just a challenge, it was a hedge against senility and she rarely gave up before she'd solved the riddle. She was a fierce pinochle player who, to the consternation of her longsuffering husband, wasn't above slyly gesturing toward her wedding ring to indicate a hand full of diamonds. April Fools was as sacred to her as her birthday, an opportunity to lure Marvin into the same trap every year. She was an equal opportunity trickster, plying practical jokes on harvest crew as well as rich relatives. One hired hand refused to ever eat her brownies, never sure whether they might be frosted with Ex-Lax or dusted in powdered alum.
She stood beside her cattleman husband as a full-throated promoter of beef, and was a member of the Cattleman's Association auxiliary Cowbelles. She was a devout Catholic, fully submersed in the wonder of her unshakable faith. But she managed to keep an open mind as she witnessed the unfolding of the lives of her family and people she loved, and she learned to honor the vicissitudes of life that proved we are all human. She loved a good debate, and was not afraid to challenge received secular wisdom or share her opinions on the op-ed pages of the Lewiston Tribune. She loved the Tribune's Bill Hall but didn't hesitate to take him to task if she disagreed with him. Her progression from Jack Kennedy cheerleader to George W. Bush devotee confused some of her children and often complicated her desire to straddle the aisle.
She was a Gonzaga Bulldogs fan long before it was fashionable, and was mercifully leveled by a stroke just days before they lost their last championship game. She was also a loyal, if perpetually frustrated, Mariners fan.
If the success of Helen's life derived its power from any one thing, it would have to be her innate generosity. Her kindness and bounty, showered daily on those around her — in the form of everything from cookie platters to handwritten notes — paved a two-way street of affection and engendered a lifetime of reciprocated love and respect from neighbors, family, friends and even strangers. Her absence from this life will be felt deeply by every person she knew.
Helen was preceded in death by her parents; her siblings, Norma Tostenrude and Jack Herndon; her husband, Marvin; and son, David. She is survived by her children, Richard (Dawn), Rebecca, Kristine, Mark (Joanie), Kurt (Pam), John (Mary) and Kelly (Cliff). She had 21 grandchildren and 28 great-grandchildren.
A family graveside service took place Saturday. A full memorial celebration will be announced by late summer, once COVID-19 is under control.
Suggested memorial donations in Helen's name may be made to All Saints Catholic Church, Camp Wittman or to a charity of your choice.
Condolences
Father Bryce McProud
Just learned today of Mrs. Witttman's death and I am saddened.
Her parents and my grandparents were friends in Culdesac. I am a member of FarmHouse Fraternity.
I will offer today's Mass for the repose of her soul.
Thursday, May 13, 2021 3:37 PM
Valerie Allen
Sending sincere condolences on the passing of Mrs. Wittman. She always welcomed me and her home whenever I stayed with Kelly. I remember her singing a song by Madonna during the car trip. Prayers to you all.
Thursday, May 13, 2021 7:26 AM
Offer Condolences