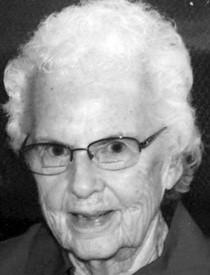 Helen Vannoy
4/16/1919 — 7/20/2017
Eva Helen Vannoy passed peacefully at her home in Lewiston on Thursday, July 20, 2017, after courageously dealing with a long illness. Helen was born April 16, 1919, in Orofino, to Andrew Hamilton Bryant and Mamie Sumpter Bryant. The family lived in the Glenwood area, and she was the third of four children. As a high school senior, and a short time after graduation from Orofino High School, Helen worked as a waitress in Malloy's House of Sweets in Orofino.
Helen married Ocie Vannoy on Dec. 19, 1938, in Orofino. The couple lived on a rental farm of approximately 1,000 acres near Cavendish, farmed by Ocie and his brother, Allie Vannoy. Helen often prepared meals for farm crews in a house with no electricity, indoor plumbing or telephone. There were many stories of critters, snakes, ornery horses and mules, and having to make do with little. Helen related that the early days of farming had been a hard life, but it had been a good life.
Helen and family attended the Cavendish Methodist Church, a log church built by the community in the late '30s. She was blessed through her church involvement over the years both spiritually and socially.
In 1946, Helen and Ocie purchased a farm property nearby, where they lived and farmed until retirement in 1981. They continued to live at Cavendish until 1995, when they moved to Lewiston. Helen has been blessed with wonderful and caring friends who have assisted her for several years, allowing her to remain in her home.
Helen had many interests including gardening, crocheting, fishing, camping, boating and traveling with a camp trailer. The Vannoys spent many winter months in Yuma, Ariz., living in their trailer, and later in a home they purchased there. Helen has been an avid fan of Gonzaga basketball for many years and never missed watching a game on TV.
She was preceded in death by her husband, Ocie, in 2007; brothers Delbert Bryant and Faye Bryant; and a sister, Neva Wilson.
Helen is survived by her daughter, Sandra Enger and husband Darl of Missoula, Mont.; son Robert and wife Marolyn of Greenville, S.C.; grandchildren Susan Hawkins and husband Jeff of Nampa, Joseph Vannoy of Kirkland, Wash., Todd Vannoy of Redmond, Wash., Mike Enger and wife Debra of Walla Walla, and Michelle Snobar and husband Sam of Seeley Lake, Mont.; and 10 great-grandchildren. There are several nieces and nephews in the Lewiston area, as well as her sister-in-law, Edith Vannoy, and dear friends Carley and Don Lawrence.
A special thank you to the wonderful physicians and nurses at St. Joseph's oncology, and doctors Eggleston, Kumar and Flinders for all the kind and special care.
A graveside memorial service will be announced in the Lewiston Tribune and will be held when relatives living out of town are able to attend.
Memorials can be sent in Helen's name to the Orofino Methodist Church, P.O. Box 424, Orofino, ID 83544, and specify they are for the Cavendish Methodist Church.
Offer Condolences