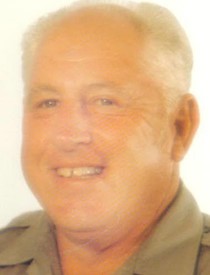 Howard D. Livengood Sr.
5/18/1929 — 1/3/2020
Howard D. Livengood, 90, went on his final journey to go hunting and fishing with all his family and friends who went before him. He passed away Friday, Jan. 3, 2020, at Palouse Hills Care Center in Moscow. He had been there the last couple of months because of complications of Alzheimer's and age.
Howard was born May 18, 1929, in Lapwai. He was the fourth child of Urban and Winnie Livengood. He grew up around Lapwai and spent all his school years there. He even helped with building the Sacred Heart Catholic Church in Lapwai in his younger family years.
Dad served in the U.S. Army during the Korean War. He was stationed in Germany and told us many stories about transporting supplies and feeding all the troops.
Dad loved to cook. We all miss his recipes and meals he used to make for family and friends. There was always enough to feed all who were hungry.
When he returned from his military service, he met and married Patty Messenger in 1954 in Pomeroy. Together they had five children, Jeannine, Mike, Dave, Dan and Gary. That marriage ended in divorce.
In 1969, he married Barbara Bennett and became stepdad to her two children, Mark and Tina. From their marriage, Howard II was born. That marriage also ended in divorce.
He was a single parent after that. He would "rather eat his own cooking anyhow" is what he used to tell us.
Dad spent 38½ years working for the Idaho Department of Fish and Game. Early in his career, he was a helper and then manager of the State Game Farm at Sweetwater. He raised many pheasants that were released in many different areas around central and northern Idaho. After the game farm shut down, he held various positions within the Deptartment of Fish and Game in Lewiston, St. Maries and Post Falls. He was a member of the Eagles Lodge and baptized in the Catholic church.
Always a game warden and an avid sportsman, he knew and loved north central Idaho. This was his home. There weren't many roads in Idaho that he hadn't traveled or didn't know where they ended up. He came home with many interesting tales of all his animal adventures. He retired as a Land Manager II in the Craig Mountain Area in the early 1980s.
After retirement, he enjoyed years of fishing for steelhead and kokanee. He loved to chase elk and deer. Hunting was a lifelong pleasure, too. He hunted and fished much of northern Idaho. Whether it was the panhandle, Headquarters area or by his son's cabin out of Kendrick, he was just happy to be hunting and was always a true outdoorsman.
Howard is survived by his children, Jeannine Palmer, Mike (Cheryl) Livengood, Dave, Dan, Gary Livengood and Howard (Wendy O'Brady) Livengood II, of Lewiston; stepchildren Tina Hensley, of Coeur d'Alene, and Mark (Katie) Bidner, of Portland, Ore.; and numerous grandchildren and stepgrandchildren.
He was preceded in death by his parents, Urban and Winnie; brothers Lloyd, Roscoe "Sonny," Roy and Don; sister Pauline; and grandson Travis Palmer.
Dad was able to stay at home the last few years with the care of his youngest son, Howard II, and his girlfriend, Wendy O'Brady, who saw to Dad's needs as his Alzheimer's progressed.
We would like to thank the staff of Palouse Hills Care Facility and Kindred Hospice for Dad's care these last two months.
In lieu of flowers, donations may be made to Alzheimer's Foundation of America, 322 Eighth Ave., 16th Floor, New York, NY 10001.
A memorial service will be held at 11 a.m. Monday at Vassar-Rawls Funeral Home, 920 21st Ave., Lewiston.
Offer Condolences