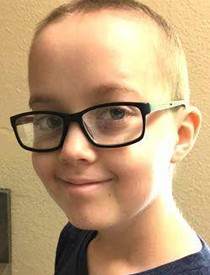 Ian B. Gunnell
3/16/2006 — 2/15/2019
Ian Bradford Gunnell passed away Friday, Feb. 15, 2019, succumbing to BPDCN, a rare form of blood cancer. He was born to Christopher and Tanya Gunnell on March 16, 2006, in Colorado Springs, Colo. He left this world surrounded by his family at City of Hope Cancer Center in Duarte, Calif.
Ian loved learning. He attended school at Vinland Elementary (Poulsbo, Wash.), hospital school (Seattle) and Camelot Elementary (Lewiston). He was most recently in seventh grade.
Ian was a good, sweet young man. He was an old soul who cared about the well-being of those around him. He was happy, upbeat and inquisitive. Ian loved life.
He had a passion for World War II history and "Star Wars." He loved airplanes and being a Boy Scout. He adored animals, especially his pets.
Ian enjoyed being active and outside. He played baseball and basketball and had fun throwing around a football. With his family he biked, skied, hiked and camped. He found joy in fishing, floating the Clearwater, sailing on the Sound and shooting.
Wherever he was, home or hospital, Ian could be found building things, like paper guns and Legos, or sketching and creating art. He enjoyed watching the Weather Channel and cooking shows. Ian's faith was important to him. He was a member of the Church of Jesus Christ of Latter-day Saints and was honored to be a deacon.
He excelled at math, working on algebra even during appointments. Ian enjoyed learning through reading.
He delighted in playing with friends and Nerf gun wars. Music flowed through his life: singing, humming, listening and playing
With his siblings, Ian enjoyed teasing and beating them at video games. He took interest in his siblings' interests and supported their endeavors. Family was Ian's everything.
Ian is survived by parents Christopher and Tanya of Lewiston; siblings Andrew (Mako) of Federal Way, Wash., and Rachel and Jenna of Lewiston; and grandparents Fred and Becky Trevey of Lewiston, Charles Gunnell of Orofino, and Terry and Marta Hansen of Sandy, Utah. He also is survived by many loving aunts, uncles, cousins and family friends. He was preceded in death by his grandmother, Susan Hansen.
Special thanks to oncology and medical staff at Seattle Children's Hospital and City of Hope for their wonderful care of Ian; to Camp Goodtimes for providing SNOJ during these difficult times; and to our PFM for Ian family for all the caring and love.
In lieu of flowers, donations can be made in Ian's name to the Goodtimes Project. Until there is a cure, there is camp.
All are welcome to attend services honoring Ian. A viewing will be held from 5 to 7 p.m. Friday at Vassar-Rawls Funeral Home, 920 21st Ave., Lewiston. A funeral will take place at 11 a.m. Saturday at the Latter-day Saints Stake Center, 836 Preston Ave., Lewiston, with a viewing one hour prior.
Service Information
Date & Time

Saturday, February 23, 11:00 AM

Location

The Church of Jesus Christ of Latter-day Saints
838 Preston Avenue
Lewiston, Idaho 83501

Get Directions

Additional Details

Viewing will be from 10-11:00 a.m. at the church. Burial will be at Lewis-Clark Memorial Gardens
Condolences
Kim Allen
Tanya - I'm so sorry to hear about Ian passing. This must be a very hard time for your family. Please know that I've been thinking about you and remembering you and your family in my prayers. I wish I could be there to give you a BIG hug. I also hope you're comforted knowing that your mom was there to greet him and is celebrating with him until you can all be reunited. ❤️
Thursday, February 28, 2019 7:07 PM
Offer Condolences