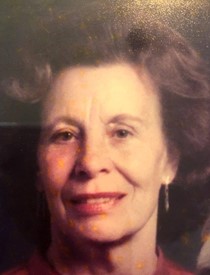 Iola A. Hansen
7/5/1917 — 8/12/2020
Iola A. Hansen, a resident of Lewiston for many years, died at the age of 103 at Fleur de Lis in Kennewick, where she lived for the last four and a half years near her son.
Iola was born July 5, 1917, in Elgin, Neb., the daughter of Joseph and Katherine Faust, and was one of nine children. Following high school, she married Louis A. Schaefers on Feb. 1, 1936, in Polo, S.D., and moved to Port Townsend, Wash. They had two children, Beverly L. Nelson and Louis A. Schaefer.
The family moved to Clarkston in 1950, where Louis was employed at Potlatch Forests Inc. In 1956, they moved to Lewiston and Louis left Potlatch Forests to engage in a home building business which he continued until his death in 1960.
Iola started a new career working at Potlatch Forests Inc., where she met Rolf Hansen, who became the love of her life. They married Aug. 26, 1967, at St. Stanislaus Parish in Lewiston. They both enjoyed traveling abroad and car trips in the U.S. They enjoyed gardening and spending time with the family. Rolf passed away Nov. 24, 1989, after an extended illness.
After Rolf's death, she and her daughter started having morning coffee at McDonald's with family and friends on a daily basis. She also became a daily walker on the dike for many years.
She is survived by her daughter, Beverly Nelson; son Louis (Shellagh) Schaefer, Roger Hansen, Bob Hansen and daughter Linda (Pat) Connelly; grandchildren Shauni (Glen) Warn, Tiffany (Tony) Engelhardt, Tom (Julia) and Ryan Connelly; great-grandchildren Daniell (Nick), Sadczenko, Taylor, Schaefer and Nicholas Warn, Noah, Luke and Ava Engelhardt. She has two surviving sisters, Berniece Banman and Patricia (Delmar) Fawcett; and many nieces and nephews. She was preceded in death by grandchild Cynthia Olson.
There will be a rosary at 10:30 a.m. Friday followed by a funeral Mass at 11 a.m. at All Saints Catholic Church in Lewiston.
Iola was a generous and loving mother, grandmother and great-grandmother. We love you and will miss you.
Service Information
Date & Time

Friday, August 21, 11:00 AM

Location

All Saints Catholic Church
3330 14th Street
Lewiston, ID 83501

Get Directions

Additional Details

Rosary will be held at 10:30 a.m.
Offer Condolences