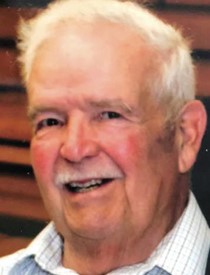 Jack M. Boyer
9/8/1931 — 2/24/2018
Jack Marion Boyer of Culdesac passed away Saturday, Feb. 24, 2018, surrounded by his loving family. He was 86 years old.
Jack was born Sept. 8, 1931, to Nelson and Mary (Bailey) Boyer in Lewiston at White's Hospital. His first years were spent in Orogrande, Idaho. He moved to the Lapwai area at age 5 and has been there ever since. He attended Lapwai elementary and high school, graduating in 1950. In high school, he was very active in sports, excelling in football and baseball. He secured a spot to play in the East-West Idaho football game in Boise in 1950. After high school Jack enlisted in the U.S. Army and served in the Korean War from 1950-52. After the war he attended Fred Uhling's Business College for one year.
He met Lola Anderson in high school when he was a senior. They fell in love and married Feb. 9, 1951, in Colorado Springs, Colo. Lola was only 16 years old when they married. She loved Jack so much that she lied to her father, telling him she was pregnant so he would agree to the marriage. After they married they lived in Manito Springs, Colo., while Jack was in the U.S. Army. Lola moved back home to Lewiston when Jack was sent to Korea. Their daughter, Terry, was born in September of 1952 in Lewiston, but she was a year old before Jack met her.
Jack and Lola settled in Lewiston, where he built a home in the Lewiston Orchards. He built that house on Burrell Avenue for only $4,000, which he often bragged about. In July of 1954, their son Bruce was born. They lived in Lewiston while Jack worked for Potlatch until 1958. In 1958, they bought their ranch on Lyle Gulch, where they still live today. Their family members were upset with them for taking such a risk, but Jack knew in his heart that farming was for him and the best decision for his family. Jack and Lola worked hard all their lives, side by side, farming and ranching their property. Jack farmed for over 30 years and ran cattle for 40 years. They bought the Dari-Delight ice cream shop in Lapwai in 1961, and later enlarged it to become Jack and Lola's Café, running it for 12 years. Jack opened up the 76 gas station in 1963. He retired from farming in 1986, but still ran over 300 head of cattle. After retiring, Jack enjoyed traveling to Arizona, Texas and Mexico.
He is survived by his beautiful wife of 67 years, Lola Mae Boyer (Anderson); daughter Terry Whipple; daughter-in-law Shirley (Bruce) Boyer; brothers Larry Boyer, Will (Linda) Boyer; and sister Carla Halsey. Jack also is survived by seven grandchildren: Tina (Pat) Whipple Lien, Dana Whipple Knudsen, Donnie Whipple, Michael (Andrea) Boyer, Sarae Boyer, Lance (Karen) Boyer and Bryce (Marissa) Boyer; 12 great-grandchildren: Kailee Boyer, Preston, Taylor and Morgan Boyer, Nicholas and Hannah Lien, Jack and Sam Knudsen, Whitney Oler and Jacoby Whipple, Olivia and Aubrey Boyer; and great-great grandchildren Zaiden John Houston and Oliver Bruce Boyer (Kailee).
He was preceded in death by his parents, Nelson and Mary (Bailey) Boyer; brothers Robert, Alfred "Bud" and James; and his son, Bruce Boyer.
Jack will be remembered as a man who was always rooting for the underdog. He lived his life with integrity, humor, orneriness and had a very protective streak. He had a gruff side but a big heart. He loved a cheap cup of coffee, the newspaper and telling a good story.
A celebration of life for Jack Boyer will be held at 11 a.m. Thursday at Vassar-Rawls Funeral Home, 920 21st Ave. in Lewiston. For those interested, a viewing will take place at 9 a.m. at the funeral home.
Service Information
Date & Time

Thursday, March 1, 11:00 AM

Location

Vassar-Rawls Funeral Home
920-21st Avenue
Lewiston, Idaho 83501

Get Directions
Offer Condolences