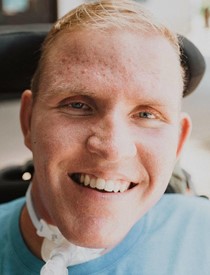 Jacob A. Massey
5/27/1998 — 4/25/2020
In the words of Jacob Aaron Massey, "Today is the best day ever." Jacob, of Lewiston, was promoted to an angel Saturday, April 25, 2020, surrounded by his family.
Born May 27, 1998, to Rob and Shellie Massey in Bakersfield, Calif., Jacob's strength and perseverance were apparent from day one on this earth as he underwent his first of more than 50 surgeries and persisted to the end. It was during these times that his sense of humor shone through most. Whether it was taking his trach out and hiding it from the nurses, pushing the "ICU code blue" button with his brothers to see how quickly everyone could run into his room, or persuading the nurse to bring him a pound of bacon, he always kept everybody on their toes. His lighthearted presence would light up a room and put a smile on the face of anyone who had the privilege to know him. He always loved a reason to celebrate, and, as such, would want everyone to know how appreciative he was at his Lewiston High School graduation when he was welcomed across the stage with the loudest cheers and a standing ovation.
Jacob did, however, have an ornery streak. Much to the dismay of his father, a New York Yankees baseball and UCLA college football fan, Jacob became an avid Red Sox and USC fan. Though he loved his mom deeply, that did not keep him from his enjoyment of teasing her every chance he got. Despite Jacob's generous nature in being willing to give you the last of anything he had, he did hate to spend money, unless it was his dad's, of course. So, if you are wondering why this tribute is shorter than expected for such a wonderful soul, it's because Jacob would want it this way, short and sweet.
Jacob is survived by his parents, Rob and Shellie; his brothers and partners in crime, Nathan and Zachary; sister (in-law, Jacob loved finally having the sister he always wanted) Kesleigh; beloved parrot Ace; grandparents Pam Johnson, Ernie Massey, Karen Johnson and Robert Gordon; and aunt and uncle Melvin and Lisa Johnson and family. We know he will be missed by many more.
In lieu of flowers, the family is requesting donations to the Jackson Baldwin Pay-It-Forward Foundation. Our family would be honored if you visited his Facebook (Jacob Massey) to share messages and memories. You will know you have found his page by his contagious smile. Lastly, Jacob would want everyone to know how thankful he was to be a part of such an amazing community. Because of COVID-19, we are unable to have services.
"Well, see you later." — Jacob Massey.
Offer Condolences