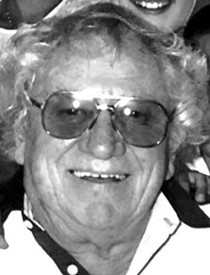 James N. Hilbert
4/29/1934 — 7/30/2017
James N. Hilbert, 83, passed away peacefully Sunday, July 30, 2017, from congestive heart failure. The family would like to thank caregiver Ed Wininger and the entire hospice team members from St. Joseph Regional Medical Center for their loving support.
James "Jim" was born April 29, 1934, in Keuterville. His parents were Emil "Jack" Hilbert and Elizabeth "Lillian" Hatke. Jim attended St. Gertrude's Academy in Cottonwood, graduating high school in 1952. Upon graduation, he enlisted with the U.S. Marine Corps and served during the Korean War. Jim was proud of his service.
During his life, Jim was known by many as "Whitey" for his light hair. Among his many careers, Jim enjoyed working at The Barge Inn, Garrett Freightlines, as president of Teamsters Union Local 551, and he owned and operated the Tap Room.
Jim married Mary M. Woods on July 1, 1961. They divorced in 1977. Jim is survived by his children, Laura Delacruz of Cornwall-on-Hudson, N.Y., Mark Hilbert (Reba) of Truth or Consequences, N.M., Jeffrey Hilbert (Henry) of Los Angeles, Christine Kaleikini (Matt) Yigo of Guam, and Kurt Hilbert (Rich) of Seattle. Jim also is survived by his sisters, Francie Tatko (Robert) of Lewiston and Mary Manocchia (John, deceased) of Burbank, Calif. He had seven grandchildren: Gabriela Delacruz, Max Delacruz, Sam Delacruz, Andrew Hilbert, Alexandra Hilbert, Zachary Nelson and Benjamin Nelson, and one great-grandchild, Olivia Corti. Jim had many nieces and nephews.
A funeral Mass is planned for 10:30 a.m. Thursday at All Saints Catholic Church, 3330 14th St., Lewiston. Memorial donations may be sent to All Saints building fund or St. Joseph's Hospice in Lewiston. Arrangements have been made by Vassar-Rawls Funeral Home in Lewiston.
Service Information
Date & Time

Thursday, August 3, 10:30 AM

Location

All Saints Catholic Church
3330 14th Street
Lewiston, ID 83501

Get Directions
Condolences
The Reid Family
The Reid family would like to send our condolences to our dear Mark Hilbert and his extended family upon the loss of a father. We hold you in our thoughts with love.
-- Rhonda, Alex, Mirabel, Jameson and Callie
Thursday, August 10, 2017 10:20 AM
Offer Condolences