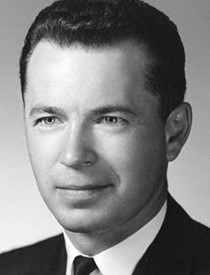 James N. Soyk, Sr.
9/26/1932 — 6/11/2019
Sept. 26, 1932 — June 11, 2019
On Tuesday, June 11, 2019, a rare and beautiful man enriched heaven with his arrival, having spent a lifetime enriching those who knew him on Earth.
Though destined to rise from an impoverished childhood to become a musician, broadcaster, businessman, commissioner, pastor and local public figure, his greatest legacy was that of beloved husband, father, grandfather, great-grandfather and friend. He lived by one creed: "A good name is rather to be chosen than great riches." (Proverbs 22:1)
James Neil Soyk was born in his grandmother's home in Minocqua, Wis., Sept. 26, 1932, the second son of Martin Carl Otto and Jennetta Josephine Soyk.
He was 3 years old when his family joined a group of homesteaders to the Matanuska Valley in Alaska as part of a government project to colonize the territory. They made the memorable trip on the converted World War I troop ship St. Maheil. The hardships of homesteading the rugged land proved too daunting for the young family, though, and they returned to Wisconsin in 1937.
Jim grew up in extreme poverty. At a young age, he helped his family make ends meet by doing odd jobs. He delivered newspapers, worked in the woods with his dad, set pins at a bowling alley, processed film at a photo shop, caddied at golf courses, played accordion in bars, repaired radios and televisions, took tourists out lake fishing and worked on a fishing boat out of Puget Island.
His quick mind drew him to electronics, and as a teenager, he built his first radio from scavenged parts. This love would forge a lifelong career in broadcasting and media.
In 1950, he escaped an unintentional association with the Chicago mob by joining the U.S. Navy, where he graduated from Naval aviation electronics school. It was while stationed at Millington Naval Base near Memphis, Tenn., that he met Opal Griggs, the dark-eyed daughter of Arkansas sharecroppers. They were married April 7, 1951, at Forrest City, Ark.
During the last year of his Navy stint, Jim was transferred to Ream Field at San Ysidro, Calif. He was assigned to a drone control squadron, flying target drones for experimental guided missiles. He was discharged from the service in September 1953.
His first job out of the Navy was at WMCT television station in Memphis. There he met politicians and television stars of the day. When that job fell through because of union battles, Jim briefly sold insurance before moving into the field of radio broadcasting. He juggled work as radio station engineer in Milan, Tenn., with gigs as an accordion player in a local band called the Tennessee Volunteers. The group booked shows through Poor Richard's Road Show out of Memphis and rubbed elbows with such up and coming performers as Johnny Cash and Carl Perkins.
Jim soon realized the dangers to a stable family life that traveling from gig to gig presented. He made the decision to step away from the band and continue pursuing opportunities in broadcasting. He worked as disc jockey and station engineer for KJUN in Redmond, Ore. From there, he accepted a job at KWIQ in Moses Lake, Wash.
An offer to work at KLEW-TV in Lewiston brought the family to the Lewiston-Clarkston Valley in 1957, where he was promoted first to salesman and then to manager. He returned to radio when he received an offer at KRLC to work as a night disc jockey. He developed a loyal following of young listeners there with his top-40 program "Night Train."
Opal's homesickness for the South spurred Jim to move the family back to Arkansas and secure a job at KTHV at Little Rock, Ark. He was quickly promoted to news director at El Dorado. But it wasn't long before Jim and Opal missed the Northwest, and they returned to the Lewiston-Clarkston Valley. For a while he again sold insurance before being rehired at KRLC as a morning show host and engineer.
It was here he thrived. He developed the fun-filled morning show "Rooster Reveille" and delighted listeners with his antics. On the show he introduced a cast of alter egos (most notably the feisty Auntie Maude) to his listeners. As his public persona grew, he became a popular speaker, master of ceremonies and local personality. He sang in a barbershop quartet, dabbled in record-producing and worked a side job as a salesman with Columbia Electric.
In 1963, he discovered a run-down homestead upriver from Lewiston at a place called Arrow. He and Opal bought the property, finally ending their nomadic lifestyle. They loved the place so much that he turned down job opportunities that would have taken them away from their beloved "place in the sun."
On air and in his frequent public appearances, Jim wove a creative narrative of Arrow life into his routines. He declared himself the mayor of Arrow and even served as special deputy for the Nez Perce County Sheriff's Department. He and Opal opened a museum in their Arrow home, inviting visitors to browse through a quality display of items representing the Nez Perce culture. A lifelong ham radio operator, he spent many hours in his basement radio room making contacts with other operators around the world via the airwaves.
In 1971, he inadvertently set off a firestorm when he announced that Arrow had annexed the city of Lewiston, immediately growing the population from around 20 to nearly 50,000. Meant to be a tongue-in-cheek commentary on the recent annexation of the Lewiston Orchards by the smaller entity of Lewiston, the story was picked up by the national news services. Jim was besieged with calls and spent a few days explaining his joke to the media.
Jim boxed competitively in the Navy and later organized a boxing club at Lapwai. He had long admired light-heavyweight champion and knockout king Archie Moore and wrangled an opportunity to meet Archie during the filming of the movie "Breakheart Pass" at Arrow. That meeting ignited a deep and lasting friendship between the two men.
He spent years in the furniture business, first at Berger-Mace and Surplus Furniture in Clarkston and later as co-owner of Family Furniture in Lewiston. When he and Opal closed the store, Jim founded Soyk Advertising, eventually partnering with his son, Jim Jr.
Opal passed away in May 1994. On Dec. 25, 1994, he married Juanita Weibert, gaining a beloved new stepfamily.
He served on the Nez Perce County Commission from 1995 to 2001, retiring in 2002 to become an ordained minister. From 2002 to 2017, he and Juanita pastored the Leland Pioneer Community Church in Leland, Idaho. In 2017, they moved to Lewiston to be nearer to family and medical care.
Jim is survived by his wife, Juanita Soyk; daughter Pamela (Aaron) Thorson; son James (Misty) N. Soyk Jr.; stepdaughter Yvette Powers; stepson John (Shawn) Weibert; grandchildren Jennifer (Scott) Hamley, Erik (Rachel) Thorson, Kevin Thorson, Daniel (Jenna) Thorson, Grace Thorson, Racheal McCormack, James (Brittney) N. Soyk III, Stephen (Ashley) Soyk, Tyson Imel, Sydnie Weibert and Blade (Sarah) Weibert; sister Karen Godbey; and many beloved great-grandchildren, nieces and nephews.
He was preceded in death by his parents; his brother, Martin Soyk Jr.; his sister, Vivian Derry; and his first wife, Opal Soyk.
A celebration of his life will be held at 10 a.m. June 22 at House of Faith, at 2502 16th Ave., Lewiston. The burial will immediately follow at the Stevens Cemetery at Arrow.
Service Information
Date & Time

Saturday, June 22, 10:00 AM

Location

House Of Faith
2502 16th Avenue
Lewiston, Idaho 83501

Get Directions

Additional Details

Burial will follow at Stevens Family Cemetery.
Condolences
Marilyn & Charlie Lame'
So Sorry Janie. (I just saw this today)
Praying for Strength & Peace for U,
Family and All Friends. GOD is with U!
Sunday, June 30, 2019 6:12 PM
Don and Beulah Moore
Juanita, thank you for sharing James' life story. We admire and appreciate the man that he was and the qualities of life he exhibited. He has been a positive influence in so many ways, but his warmth and caring were his trademarks.
Friday, June 28, 2019 6:23 AM
Offer Condolences