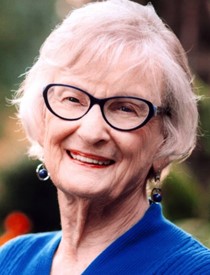 Jean H. Martin
11/30/1929 — 10/9/2021
Jean Hazard Martin passed away Saturday, Oct. 9, 2021, of cancer at her Clarkston home. She was 91.
She was an educator in her professional life and a woman of many creative pursuits in her free time. Jean was a seamstress and quilter, a musician, a devoted reader and a good friend to many people she met during her life.
She was born Nov. 30, 1929, in Twin Falls to Neale B. and Isabel (Baird) Hazard, and the oldest of three children. She has two brothers, Don Hazard, of Draper, Utah, and Robert Hazard (deceased).
She graduated in 1947 from Twin Falls High School, then attended the College of Idaho, where she met John R. Martin. They were married Sept. 19, 1948, in Twin Falls then moved to Jordan Valley, Ore., to begin their teaching careers. After a few years, they moved to Twin Falls where John began his banking career. The couple had four children in six years. Jean was at home with them before returning to teaching as an elementary schoolteacher in Kimberly, Idaho, from 1965-68, then earned a bachelor's degree in 1970 from Lewis-Clark Normal School (now Lewis-Clark State College) in Lewiston.
From 1970-72, she was a librarian at Sacajawea Junior High School in Lewiston, then worked as media director for elementary and high schools in Twin Falls from 1972-77. She was the librarian at Nampa High School from 1977 until she retired in 1992. In 1979, she was selected as the District Secondary Teacher of the Year, an honor she shared with her good friend Lola. Jean and John moved from Boise to Clarkston in 1995 after she retired. John passed away in 2002.
Jean was an accomplished seamstress all her life, and in her later years became more serious about quilting. She was a member of the Seaport Quilters Guild and Tuesday Stitchers, and her quilts won ribbons at guild and fair competitions. She made quilts for family and friends, and Quilts of Valor for veterans, for which she was awarded the President's Volunteer Service Award in 2020. Her home was filled with fabric, and she was always excited about the next project.
Music became an important part of her life. She learned the guitar and mandolin, and played with local bluegrass groups. She was a member of the Banana Belt Fiddlers, and the musicians she met became some of her closest friends. She traveled to many musical festivals and attended the annual National Oldtime Fiddlers Contest in Weiser, Idaho, for many years.
Jean's walls at her home were lined with books and she spent hours reading. She loved to recommend books and hear about favorites. She served on the Asotin County Library Board from 2001-11 and belonged to the YWCA Book Club.
Survivors include daughters Vicki (Greg), of Portland, Ore., and Terry (Steve), of Clarkston; sons Philip (Theresa), of Elk City, and Pete (Carol), of Seattle; grandchildren Cameron (Annecy), Jessica (Brandon), Neale (Lyndsey), Alex (Tia) and Ty; and seven great-grandchildren, Ryder, Ryland, Jonathan, Whitney, Mckenzie, Remy, Rooney Jean and one expected in April.
No memorial service is planned. Jean wanted the celebration of her 90th birthday with her friends and family to be remembered as one of the greatest moments of her life. The family will gather in September of next year, on the wedding anniversary of Jean and John at their favorite location, Pettit Lake in the Sawtooth Mountains.
The family suggests any memorials be contributions to the Asotin County Library and the YWCA.
Offer Condolences