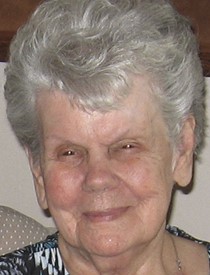 Jeanette B. Fehl-Haber
5/13/1924 — 4/21/2018
Jeanette Barbara "Jackie" Fehl-Haber passed away peacefully Saturday, April 21, 2018, at Wedgewood Terrace surrounded by family. She was 93.
Jackie was born May 13, 1924, to Clement Robert and Violette Elizabeth Lombardi in Portland, Ore. Her father, a professional prizefighter, was defending his title. Her mother had to leave the fight to give birth, and her parents referred to her as their "Little Spark Plug." He won the match.
She grew up in Alameda, Calif., and moved to Lewiston in 1945. She worked at several clothing stores in downtown Lewiston, but her family was always number one.
She had five children, Daniel Crooks Sr., Linda (Jim) Aasen, Penny Fehl-Haber, Diana Fehl-Haber and Donna (Pat) Dougan. Also her legacy will be carried on by her 10 grandchildren, 19 great-grandchildren and five great-great-grandchildren.
She was preceded in death by her parents; her sister, Delores; daughter Penny; grandson Jacob; cousin Don Lombardi; and many others who meant the world to her.
At mom's request there will be no memorial service. Her family plans on spreading her ashes in the Pacific Ocean this summer.
We, her family, would like to thank everyone at Wedgewood Terrace who more than cared for our mom. Your wonderful compassion and love that you gave her was amazing and we are forever thankful.
We are going to miss her forever.
Offer Condolences