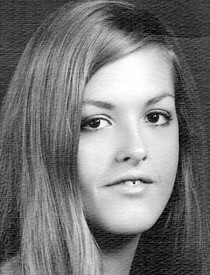 Jennifer L. Huggins
7/13/1952 — 9/12/2017
Our Jennifer passed from this world unexpectedly and peacefully in her sleep Tuesday, Sept. 12, 2017, at her home in Lewiston. She was born July 13, 1952, at Gritman Medical Center in Moscow, joining her father, Benjamin Huggins Jr., mother Lois Reese Huggins, and brother Stewart. Brother Scotty would later complete the family.
Jennifer's father, "Ben" or "Junior," was the son of Benjamin Franklin Huggins, who founded Huggins Dairy in 1904. Many people in the Lewiston-Clarkston Valley recall Huggins Dairy and especially its ice cream with great nostalgia. The lake out in Tammany was a "fishing hole" for many local boys through the 1950s. "Junior" was no less a dairyman than his father. After graduating from the university and after a year in Los Angeles, Ben embarked upon a long career with Foremost Dairies International Division based in San Francisco.
Jennifer and her brothers had an adventurous childhood living in the diverse world areas of Japan, Guam and Adana, Turkey. While in Guam, Jennifer was hit by a car while riding her bike and badly injured. She was returned to the states wearing a nearly full body cast. Cousin Blaine Hopkins remembers her being almost immobile but still with her beautiful smile and ability to kid and joke about her misfortune.
After graduation from Lewiston High School in 1971, Jennifer attended the renowned Burnley Art School and then the Cornish College of the Arts in Seattle, one of the nation's premier art schools. Art would remain both her passion and anchor in her troubled times ahead. At that time, Jennifer was a compelling beauty who could converse about art or literature and traveled among the elite of the Seattle art scene. It was told that when she walked into a room, every eye was drawn to her. Soon laughter was heard as she shared some recent observation or discovery. The quirky way she viewed the world was evidenced in her art and photography.
As with many artists, sustaining work in her craft was difficult to obtain. She returned to Lewiston and managed an 18-year career with Omark, working four days a week there and at times three days at Weisgerber's Interior Decorators. In 1988, at age 36, she suffered a debilitating stroke. Omark was great about finding some task by which she could still draw pay, but her condition gradually worsened. Ultimately, she could no longer work.
Jennifer gradually lost her remarkable spirit and spiraled into decades of mental illness and depression. There were small gaps in the darkness of depression that enveloped her when she reminded her family and friends of their Jennifer. She had hope and faith that God would at some point help her find the answer if she kept trying; her deep spirituality found the connection with God in her Catholic faith. At times, she spoke of her love and awe with Jesus and with Mary. One was immediately impacted by her faith.
Jennifer was a beloved daughter, sister, cousin and friend. In true Huggins fashion, she loved vanilla ice cream as well as nature and all living things, floating down the river, skiing at Tamarack Resort and she had a special bond with cats "Wolfgang," "Suki" and "Mirro," who were followed by "Paris." She was also exasperating, unpredictable, fiendishly clever and quick to say the most outlandish comment just to see your reaction. Although very private, she was generous with her art but once gave friends a ball of rubber bands, saying each time you extract one, think of me, and they will. How could they not?
Jennifer leaves behind her beloved mother, Lois; brother Stewart Huggins and his son, Wyatt, of Kennewick, and brother Scotty and wife Cindy of Edmonds, Wash. Her death is a reminder of how fleeting and precious life is. She leaves us all with the knowledge that her radiant smile has returned and all is well. RIP Jennifer.
Lois wants to thank sons Stewart and Scotty, nephews, Jennifer's cousins and many friends who have been there when Lois felt lost and needed help and support.
Services will be held at 10:30 a.m. Oct. 4, at the All Saints Church, 3330 14th St. in Lewiston.
Instead of flowers, please consider a donation to the animal shelter or charity of your choice.
Service Information
Date & Time

Wednesday, October 4, 10:30 AM

Location

All Saints Catholic Church
3330 14th Street
Lewiston, ID 83501

Get Directions
Offer Condolences