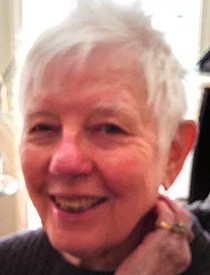 Joan K. Peterson
5/31/1932 — 10/13/2018
Joan Katherine Peterson was born May 31, 1932, in Spokane to Ben and Marcella Gaffney Marsh. She attended school in Headquarters, Idaho, through the sixth grade. After that, her family moved to Lewiston, where she continued her schooling and graduated from Lewiston High School in 1950. She then attended Lewis-Clark Normal School (LCSC). She worked at Marsh's Restaurant in Headquarters and at the Owl Drug in Lewiston prior to her marriage. After her marriage, she worked at home taking care of her seven children.
As a teenager, Joan lived in Lewiston and spent summers in Headquarters. At age 16 she met Ed Peterson, who was working in the logging camps near Headquarters. After a mostly long distance relationship where Ed made a 200-mile round trip to court her, they were married Oct. 6, 1951. They made their home in Clarkston, where they raised their family.
Joan loved to dance. She enjoyed family gatherings, watching movies and "The Big Bang Theory," collecting dolls and going to lunches with the Headquarters group. She volunteered at the LCSC day care for several years. She was a great storyteller who had the best sound effects when telling them.
Her sense of humor kept us all laughing and she often cracked herself up with her own jokes. She had a wonderful singing voice and would sing while she worked around the house.
Joan was preceded in death by her husband; her parents; parents-in-law Jim and Nova Delaney; her sister, Sally Bowlds; brother Donnie Marsh; and son-in-law Dan Porter.
She is survived by her children, who feel blessed to have had the best parents: David, Bobby, Diane Porter, Roger and wife Marlene, Nadine and husband Ty Walters, Julie and husband Jerry Rogers, and Dale and wife Christine. Also surviving are her brother, Larry Marsh, and his wife, Marilyn; nine grandchildren; and 12 great-grandchildren.
At Joan's request, there will be a private family service followed by a celebration of her life at Beachview Park from 2 to 4 p.m. Friday, Oct. 19. Bring a chair and your memories.
Memorial contributions may be sent to Zeus' Friends Lost and Found Pet Network.
The family would like to extend a special thank you to Doctor Deshpande and staff at Tri-State Wound Healing, Doctor Ozeran, Prestige Care and Rehabilitation and Tri-State Memorial Hospital ICU for their loving care of our mom.
Online condolences may be sent to vassar-rawls.com.
Service Information
Date & Time

Friday, October 19, 2:00 PM

Location

Beachview Park
2nd Street & Chestnut Street
Clarkston, Washington 99403

Get Directions
Condolences
Lori (Topping) Knoll
I'm sorry I couldn't make it to your Mom's service. Please know you are all in my heart and in my prayers right now. Joan was one of the sweetest people I have ever known and our whole family loved her very much.
Friday, October 19, 2018 4:55 PM
Jayme (arnett) Lowary
So very sorry for the loss of your mom. She was such a fun lady and always had a smile. I always enjoyed her when she came to the daycare to help rock the babies . Prayers to you all.
Friday, October 19, 2018 10:32 AM
Offer Condolences