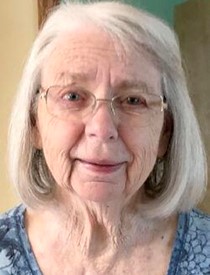 JoAnn Eacker
8/24/1936 — 7/27/2022
JoAnn Eacker, 85, a longtime resident of Lewiston, died Wednesday, July 27, 2022, surrounded by her loving family. She had suffered a stroke in April and was working hard on her recovery. She was born in the Troy hospital to Lloyd and Agnes May. She attended school there and graduated from Troy High School. JoAnn had two sisters and one brother. She married Lyle shortly after graduation and had 62½ years of adventures together. They raised two children, had three grandsons and five great-grandchildren. Her family was her joy and she had tremendous love for all.
JoAnn started working in the Troy Theater during her high school years. She worked at the Bonanza Store in Lewiston for four years and then went on to work as an instructional aide for Lewiston and Tammany School Districts. She worked 26½ years helping kids in the classroom, keeping them safe on the playground and working in the cafeteria. She established special relationships with all the students and teachers she worked with.
She enjoyed walking, going to the gym, square dancing, music performances and most of all, sharing time with her close family and dear friends. She enjoyed many family trips across the U.S., Hawaii and Germany. She was always ready to have fun in the sun and never tired of going to the ocean.
JoAnn was preceded in death by her husband, Lyle; father, Lloyd; mother, Agnes; sister Shirley; brother-in-law Michael; and niece Anne.
Survivors include daughter, Charlene and Mike; son, Jeff and friend Sandy; brother Dell and Bev and family; and sister Janice and family. Three grandsons and families also survive JoAnn. They are Drew and Johanna, along with great-grandchildren Isaac and Lydia, Kyle and Nikki, great-grandchildren Ellie and Owen, and Brandon and Taylor, and great-grandchild Myles. She was also survived by her deceased sister's children, Kevin, Nikki, Mark, Joe and families.
Besides her surviving family, JoAnn had many, many treasured friends. She prided herself as a best friend to all, a gifted listener, giving her full attention to every conversation. She was a support to all her life touched. She had very special walking friends, square dancing friends, friends she supported in the workplace, neighborhood friends and everyday phone friends. She always kept in touch with as many of her friends as she could. Everyone could count on JoAnn. Everyone felt valued and heard.
A celebration of life service is planned for all who can attend in the near future. Details are to be announced when available. She will be laid to rest with Lyle in a private family ceremony. Thank you to all who were friends with JoAnn and know that each and every one of you who knew her was important to her. Like the famous words of Dr. Seuss — "To the world you may be one person; but to one person you may be the world."
Offer Condolences