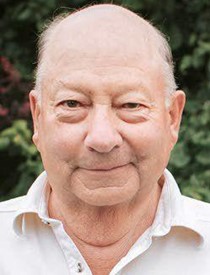 Joe A. Chapman
4/25/1938 — 6/25/2019
Joe A. Chapman passed away Tuesday, June 25, 2019, at his home in Lewiston, after a short battle with cancer. He was 81 at the time of his death.
Joe was born April 25, 1938, in Oregon City, Ore., to Carl Manfield Chapman and Pauline Marie Crosby. He was the second oldest of four siblings: Richard Chapman of Lewiston, Lorraine (Bob) Shaw of Hayden Lake and John (Chris) Chapman of Lewiston. The family later moved to the Lewiston area, and while growing up Joe attended local schools, worked with his dad building houses and enjoyed pheasant hunting.
Joe married Rosalie Marie Shine on Dec. 8, 1956. They settled in Lewiston while Joe worked on the Brownlee Dam, for Potlatch Forests Corp. and later became a self-employed contractor, building homes throughout the Lewiston area.
Joe and Rosalie raised three sons in the Lewiston valley: Randy Chapman (Chris Connerley) of Lewiston, Dan Chapman of Goldendale, Wash., and Jeff (Jan) Chapman of Lewiston. He is survived by four granddaughters: Meagan Keith, Allie Mooney, Jamie George and Chelsey Starkey; nine great-grandchildren; and his siblings. Joe was preceded in death by his parents; wife Rosalie; and daughter Lora.
Joe was a proficient carpenter and adept in all aspects of residential construction, developing an interest and skill in cabinet making. He enjoyed benchrest shooting and competed in the region for several years. Related to this hobby, he developed an interest in gunsmithing: repairing, designing, and building both barrels and stocks. He additionally enjoyed collecting antiques, guns and an array of eclectic artifacts, including art, statues and tools that decorated and filled his home.
There will be a gathering for friends and family from 4:30 to 7 p.m. July 12 at 3224 Meadowlark Drive in Lewiston.
Offer Condolences