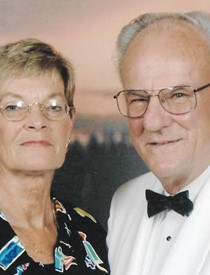 Joe Ingram
10/17/1935 — 3/23/2018
Joe C. Ingram passed away on Friday, March 23, at his home in the Lewiston Orchards. He was 82 years old. Joe was a husband, father, brother, son and a good friend. He served 23 years in the United States Air Force, working communications in Strategic Air Command in Labrador, California, Germany, Belgian Congo, France, Florida, Philippines, Colorado and Hawaii.
Joe was serving in the Air Force when he met Millie in Sacramento, Calif. He charmed her with his big blue eyes, smile, deep voice and perfectly polished and shined shoes. They shared a typical military family life, traveling the world and enjoying every minute of it.
After retiring from the Air Force, Joe started in the car business, and for the next 35 years sold a car to almost everyone in Lewiston. His diligence and commitment to his customers earned him a great reputation.
Joe did not have any nicknames, but if you were in a crowd of his friends and someone said, "The Grouch," you knew immediately who they were speaking of. Joe was an excellent card player, avid fisherman and a persistent golfer.
Joe was baptized in 1969 and found comfort and guidance in the scriptures.
Joe was preceded in death by his parents, Carl and Edith of Ojia, Calif.; and his brothers, Leonard and Bert Ingram. Joe is survived by his wife of 62 years, Millie; three children and their spouses, Tony and Kathy Ingram of Lenore, Joice and Chris Cary of Liberty Lake, Wash., and John and Andrea Ingram of Moscow. His is also survived by seven grandchildren: Andrew, Daniel and Matthew Ingram, Jacey Harder and JoAnne Eppers, and Erin and Jill Ingram; and three great-grandchildren, Eliza, Eva and Harrison Joe. He is also survived by his brother, G. Duane Ingram, of St. Maries.
A service of remembrance will be held at 2 p.m. Wednesday at Vasser-Rawls Funeral Home, 920 21st Ave., Lewiston.
Service Information
Date & Time

Wednesday, March 28, 2:00 PM

Location

Vassar-Rawls Funeral Home
920-21st Avenue
Lewiston, Idaho 83501

Get Directions
Offer Condolences