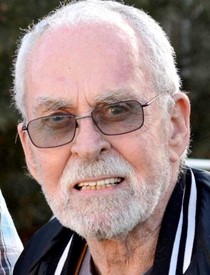 Johnny Lee Gilbert
8/7/1934 — 2/27/2021
Johnny Lee Gilbert was born Aug. 7, 1934, at Spokane. Dad passed Saturday, Feb. 27, 2021, at Tri-State Memorial Hospital, at age 86.
He was known as John to many except by his mother, Melba, and siblings, who called him Johnny — unless he was in trouble, then it was "Johnny Lee." When he was very young, he lived in Rose Lake, Idaho. He spent the war years in Lewiston living with his mother and grandparents. After the war, his family moved to Elk River. He would spend his entire life working and playing in the small towns and cities of northern Idaho.
When his uncle Vernon returned from military service in England after the war, they both went on a grand tour by rail and bus of the "big" cities of the Pacific Northwest — Spokane, Seattle and Portland — when John was the ripe old age of 12. A lifetime of stories came from this trip.
The move to Elk River set up a lifelong love of hunting and fishing that he passed down to his children and grandchildren. He enjoyed playing sports at Elk River High School, lettering in all. After graduating in 1954, he went to work in "the woods." Family enjoyed his retelling of rescuing an infant chipmunk from a fallen tree and raising it in his front shirt pocket until it was old enough to scamper back into the forest.
He married his high school sweetheart, Joyce, and they had three sons, Dean, Todd and Craig. He made the move from Elk River to Lewiston in 1962 to find steady work to support his young family. He found that work at PFI/Potlatch (Clearwater Paper) mill. He made many lifelong friends at the mill and enjoyed lots of hunting and fishing trips with them over the years. He retired in 1994.
After his marriage to Joyce ended, he built a new home with the help of one of his best friends, Don Renn, in between their famous hunting trips. He spent the rest of his life living there.
A marriage to Carol would bring new children who he would come to love and adopt as his own. He would become a scoutmaster and coach for them. That marriage would later end in divorce.
Dad was lucky in finding love and lasting marriage when he met Yvonne in 1984. They enjoyed many trips to varied locations like Hawaii, Mexico and Florida.
They spent many fun-filled weekends at their cabin in Elk River, picking huckleberries and fishing with the grandchildren. After retiring, a great source of fun was many camping trips with their Good Sam Club. The pair threw many large family feasts and barbecues at their home, lavishing loads of love on everyone. And if you were lucky, his world-famous walnut pie would be served.
John is survived by his wife, Yvonne; children Dean (Jacqui), Todd (Diana), Craig (Michelle), Todd (Peggy); 10 grandchildren; and 12 great-grandchildren. Dad was the oldest child and the last to go. He was preceded in death by his parents, Charles and Melba; siblings Barbara, Guy, Becky and Ralph; and Uncle Vernon.
Vassar-Rawls Funeral Home is handling arrangements. Cremation has taken place and a graveside interment service will be held at a later date. John was a member of the Community of Christ Church.
Dad was a kind man who lived a full life and was loved.
Offer Condolences