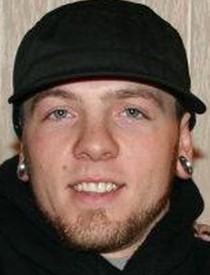 Jonathon D. Bake
7/27/1933 — 11/1/2016
Jonathan D. "Jon" Bake died peacefully Tuesday evening Nov. 1, in Lewiston, at the age of 33.
Jon is survived by his father and father's fiancee, Mathew L. Bake and Jan Garritson of Lewiston-Clarkston; his mother and stepfather, Dana K. and Dellwin D. Ruddell of Lewiston; two brothers, Shawn Bake of Lewiston and Jeremiah J. Ruddell of California; three sisters, Alisha M. Nielson of Lewiston, Kimberly Elizabeth Bake of California and Kayla M. Ruddell of Spokane; his maternal grandparents, Dennis L. and Linda K. Jenson; his stepgrandparents Dell and Joann Ruddell; and numerous relatives who loved him very much. Jon was preceded in death by two brothers, Bradley C. Bake and Joshua D. Ruddell, both of Lewiston; and paternal grandparents Dean and Merle Bake of Parma, Idaho.
Jon was born on July 27, 1983, in Ogden, Utah, to Mathew L. Bake and Dana K. (Jenson) Bake Ruddell. Jon graduated from Lewiston Senior High School in 2001. Jon was involved in many sports; his main focus in wrestling, including participating in the freestyle Junior Nationals in North Dakota and qualifying for Idaho state wrestling championships numerous times for Lewiston Senior High School, "having the heart of a lion." Jon moved to Portland, Ore., and Vancouver, Wash., after high school, working several years for Protech Welding, specializing in aluminum welding. Jon was very involved in motocross, racing dirt bikes sponsored by Monster, Pro Caliber, and Bent Lever. Jon's favorite team racing event was the Top Gun race in Washougal, Wash. - four days of camping and riding. Jon moved back to Lewiston in 2008 and worked at Jetco Machine and Fabrication, Nick's Welding, and was currently with Clearwater Paper, working on becoming an apprentice pipefitter.
Jon was a very talented and skilled individual. A few of his many talents were his mechanics, welding and motocross. Jon was able to rebuild nearly any engine but was passionate about Honda automobiles and dirt bike engines, where he spent many hours in the shop with his tools. This is where you could always find him many a late night wearing his favorite Carhartt vest and pants, with a tool in his hand; underneath a car or over a dirt bike with a grease smudge and a smile on his face, always offering sunflower seeds or roasted pumpkin seeds from his pocket and saying "what's crackalackin." Jon loved spending time outdoors, whether it was riding his dirt bike on trails or racing at the track in Clarkia, riding horses and hunting elk with his father or hunting white-tail deer with his stepfather. Jon had a great love for animals, whether it was for dogs and cats or his chickens, showing that special kindness to them. Jon was a kind, generous, witty, dedicated and above all, selfless soul befriending and touching many lives around him.
Funeral services are scheduled for 10 a.m. Saturday with a family dinner to follow burial. Both are being held at the Church of Jesus Christ of Latter-day Saints Stake Center building located on Ninth Street and Preston Avenue in Lewiston. Erin Leavitt, bishop of Lewiston First Ward, will officiate. All are welcome to attend and celebrate Jonathan's life. The family would appreciate any memorable photos be sent to photolab@wasems.com, Attention: Alisha Nielson for distribution and/or purchase.
Service Information
Date & Time

Saturday, November 5, 10:00 AM

Location

The Church of Jesus Christ of Latter-day Saints
838 Preston Avenue
Lewiston, Idaho 83501

Get Directions
Offer Condolences