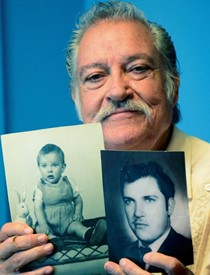 Jose De Jesus Murillo
3/19/1946 — 8/21/2020
Jose De Jesus Murillo Jimenez, who was well known as Papa or Pepe, left us on Friday, Aug. 21, 2020.
Jose was born on March 19, 1946, in Mexico City, to Marcelino and Margarita Murillo. Jose and his seven siblings were raised in Mexico, where he attended school until the sixth grade, when his parents were told they would have to pay before he would pass onto the next level. So at a young age, he started working, selling milk during the day. He would get mad at his dad when they were selling at the border because he would talk more than he would sell. At night he would read books to educate himself. He eventually got a job as an auditor for the government and was named as a judge in the city of Pedro Escobedo by the local mayor.
Jose and Paula Garcia were married Nov. 22, 1965, in Mexico, where they started raising the first eight of their 10 kids. In 1980, Jose moved to America to build a different life for him and his family. He learned how to speak English by watching and listening to others. He was a hard worker and taught himself how to roof, and he became well known throughout the community for his good work, speed and good prices. As soon as he was able to, he brought the rest of his family to America. He spent some time working at a Mexican restaurant, then eventually retired from Blount to follow his dream of owing his own business. He taught all of his kids the craftsmanship of roofing, and soon Murillo's Painting and Roofing was well known as the roofing family in the Lewiston-Clarkston Valley.
Jose lived by the word, and one of his favorite quotes was, "You pray to God for guidance to achieve what you need, not for what you want." Papa always had an encouraging word and he found every obstacle as an opportunity rather than a downfall. He always had an answer and it was never what you expected; if you lost your job, it was a good thing because you got to learn a new trade. He was a wise man who always had the best one-liners.
Papa was always a good judgment of character, and he scared off most of the kids' friends by being honest and giving hard-knock advice. To many of his kids, especially Monica, he was known as her ride-or-die or their best friend. He loved to joke around with his kids about their driving, asking why they always go all of the way to Waha when they are just driving to Walmart. Papa talked to all of his kids the same, and you always knew how he felt, not because he expressed them in words, but he was always so full of emotions, you just knew.
Papa loved to dance, laugh and take his grandchildren on trips to Costco. He loved to joke around and always had a play on words. He never met a stranger and he would talk to everyone as long as they would lend an ear. His trips to Costco, Albertsons, P1FCU and many other errands he ran throughout the day were just an excuse to visit and tell his stories. Papa loved the New England Patriots, but ironically he would root for the Seahawks or Eagles when they would play his team, because he didn't want to see Abe or Monica get upset if their team lost.
Papa loved Elvis; he could listen to Elvis for hours on end. He even got to go to Memphis with Hector and get pictures. Another favorite pastime Papa had was to sit on his porch and smoke a cigar while listening to Mexican music and enjoying the peacefulness. Papa was always giving — some would even say to a fault, but he would say it was never a fault to give. He was proud of the things he was able to accomplish; he never made any excuses and he would feed a hungry stranger on his last dime. He made sure nobody ever left his house hungry. He spent his last few months living on the jobsite and cooking for the construction crew that has been working on his family's new home. His presence will always remain, but he will be missed by all who got an opportunity to know him.
He is survived by his siblings, Jesus Murillo, Maria Olglesby and Maria Del Refugio Alcantara; kids Alma (Robert) Responts, Jose (McKinlie) Murillo, Daniel Murillo, Ricardo Murillo, Hector Murillo, Monica (Jeff) Powell, Israel (Kari) Murillo, Abraham Murillo, James (Tara) Murillo and David (Elisabeth) Murillo; grandkids Hector, Neahmiah, Isaiah, Zephryn, Ethan, Breanna, Abe Jr., Isabel, Margarita, Alecea, Ayla, Magdalena, Hannah, LeAnna, Daniel, Conley, Teno, LaTasha, Tony, Cassidee, Lynae and Preston Murillo, Kayla Valverde, Tyler Murillo-Responts, Travis Responts, Tiana, Katrina and Lydia Powell, Abbey Achziger, Fenix Scott, Dillon Reckard, Tyrone Paul; and many great-grandkids. Jose was preceded in death by his parents, Marcelino Murillo and Margarita Jimenez; siblings Manuel Murillo, Moises Murillo, Rafael Murillo and Carman Murillo; and his daughter, Magdalena Murillo.
A public viewing will be held from 4-6 p.m. Friday, Aug. 28, at Vassar-Rawls Funeral Home, 920 21st Ave., Lewiston. A graveside service will take place at 11 a.m. Saturday, Aug. 29, at Lewis-Clark Memorial Gardens, 3521 Seventh St., Lewiston. A reception will follow at Walker Field on Fourth Street and Preston Avenue in Lewiston.
Instead of monetary donations to the family, please consider donating to the Idaho Foodbank in Lewiston.
Service Information
Date & Time

Saturday, August 29, 11:00 AM

Location

Lewis-Clark Memorial Gardens
3521-7th Street
Lewiston, Idaho 83501

Get Directions

Additional Details

Viewing will be held Friday, 4-6 pm at Vassar-Rawls Funeral Home.
Condolences
Pastor Greg Pedersen
Our deepest sympathies to the entire family, we live a block away. Our kids went to school together, and your neighbor's for 30 years. Trusting God to bring strength to all. Greg and Robin Pedersen
Wednesday, August 26, 2020 9:07 AM
Offer Condolences