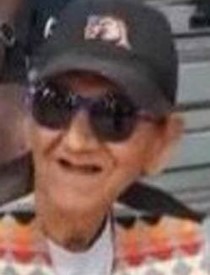 Joseph Higheagle
8/22/1950 — 10/14/2021
oseph (Joe Buck) Higheagle of Lapwai passed away Thursday, Oct. 14, 2021, at his family home in Lapwai. He was 71.
He was born Aug. 22, 1950, in Sweetwater to Mary Rose Higheagle. He went to Riverside Boarding School in Anadarko, Okla. He later returned to his homeland in Lapwai where he met Trudy Lawrence (Perrigo) and had Marjorie Lawrence. He then met and married Ida Ann Wheeler, then later divorced. He moved to Pendleton, Ore., where he met InaMae Patrick and had three children, Ricky Sly, Joseph Jr. and Suevina Higheagle of Pengleton. Joe moved back home to Lapwai, where he later met his life partner and companion, Rhonda Green. She was at his side until his death.
Joe was a drummer, stick game player and traveled the powwow circuit throughout the country, which took him near and far.
He is survived by his partner, Rhonda Greene of Lapwai; brothers, Raymond Scott, Vincent Taylor of Lapwai and Phillip Higheagle of Plummer; sister, Delores (Sam) Pablo of Lapwai; sons, Rick Sly and Joseph Jr. of Pendleton, Ore.; daughters, Suevina Higheagle of Portland and Marjorie Lawrence of Lapwai; 14 grandchildren; and numerous nieces and nephews.
Dressing will take place at 1 p.m. Monday, Oct. 18, 2021, with Walusat Services to follow at the Nez Perce Longhouse in Lapwai. Sunrise Burial will take place Tuesday, Oct. 19, 2021, at Jonas Cemetery in Sweetwater. Due to the pandemic, the family requests those in attendance wear a mask.
Service Information
Date & Time

Tuesday, October 19, 7:00 AM

Additional Details

Sunrise Service at Jonas Cemetery
Offer Condolences