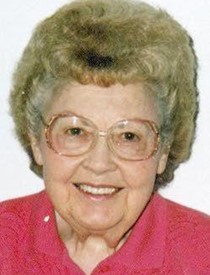 Joye Swan
10/23/1916 — 7/8/2019
Joye J. Johnson Swan, 102, passed away peacefully into the joy and celebration of her Lord Jesus and her family who have gone on before her Monday, July 8, 2019. She was born Oct. 23, 1916, to John and Florence Johnson, at her family's home on American Ridge near Kendrick.
She often said she was amazed that her mom would name her Joye when she was the fifth girl born into the family. "The next baby was the boy they were looking for," she laughingly said. She brought great joy to her family because she was the tomboy that her younger brother, Buddy, needed growing up. They were always outside together doing the things that boys loved to do. She used to say, "I was the only brother that my brother ever had." To say she was "scrappy" would be an understatement. She always fought for what she believed in, and her can-do attitude served her well all her life.
She graduated in 1935 from Kendrick High School, where she was active in sports and student government. She loved school, especially extracurricular activities. While her sisters studied very hard, graduating at the top of their classes, Joye played hard. Her basketball team was an all-star team, competing in statewide tournaments in Boise. She was voted student body president and prom queen her senior year. All through high school, she sang with the glee club. Her beautiful voice opened up many opportunities for her. She and her three sisters, The Johnson Sister Trio, sang in events all over the region in churches, camp meetings, radio, county fairs and other community gatherings, singing the hymns they knew and loved.
She caught the eye of a young man named Agner "Ag" Swan during one summer while picking strawberries at a farm near Kendrick. Ag would pick up the Johnson sisters and drive them to church on Sunday mornings. Joye always wanted to ride the running board. Her fun-loving ways captivated him and he was smitten. Joye Johnson and Agner Swan were married Oct. 3, 1941, in Long Beach, Calif.
After high school, she graduated from Bible College at the Lewiston Prayer League Tabernacle. Joye enjoyed tending her flower garden, and brought a fresh bouquet of flowers each Sunday to church at the Prayer League Tabernacle, where she also taught Sunday school. After Bible College, she traveled across the USA with a female evangelist leading the singing services.
The Second World War was raging, so Joye and Agner wanted to do their part to support the cause. Ag was a welding foreman building Liberty Ships. Twice he was called up to enter the war, but when the Army realized that he and his crew were building the ships needed to transport soldiers and supplies to the battle front, it sent him back to continue his work. Joye was employed inspecting electrical systems at Douglas Aircraft in Long Beach. Joye and Ag welcomed their first child, a daughter named Linda, in late 1946. A son, John, soon followed in 1949.
After the war, they returned home to Idaho, living in Juliaetta, where Agner worked construction most of the year and Joye decided to earn a degree in teaching. She committed to the 50-mile round trip to Lewis-Clark Normal School (now Lewis-Clark State College) to attend classes. Upon graduation, she taught elementary school in Lapwai for 20 years until she retired in 1978.
Joye and Agner moved to Lewiston when Linda graduated from high school in 1965, where they continued to live until his passing in 1990. Joye and Ag were heavily involved in their church, volunteered regularly and taught Sunday school. Joye's faith in Jesus was the most important thing in her life, and if you ever spent more than a few minutes with her, you would get to experience the passion and love she had for her savior. She loved being a grandmother and great-grandmother and spent many summers attending family church camps with her kids and grandkids. Joye and Ag traveled far and wide in their brown VW Microbus to visit family and friends all over the country.
Music was always a huge part of Joye's life. She sang with her sisters on the local radio station as a youngster, and they also volunteered weekly, singing and playing music in nursing homes for more than 40 years. Joye had a special love for playing the 12-string Martin tiple and would bring it to family functions and reunions to share her love of music with her family.
Joye had many family members awaiting her arrival in heaven, especially her sweet husband, Ag. She is survived by her daughter, Linda (Mark) Haugen, of Clarkston; son John (Becky) Swan, of Kooskia; her younger sister, Wanda Hoskins, of Culdesac; six grandchildren; and 10 great-grandchildren, who loved her dearly and were impacted by her life in so many amazing ways.
A memorial celebration of Joye's life will be held at 1 p.m. Friday, July 12, at Vassar-Rawls Funeral Home in Lewiston.
Service Information
Date & Time

Friday, July 12, 1:00 PM

Location

Vassar-Rawls Funeral Home
920-21st Avenue
Lewiston, Idaho 83501

Get Directions
Condolences
Lois Brandon
Joy, loved by so many. Beloved of the Lord (Eph).
Thursday, July 11, 2019 8:11 PM
MargieLee Johns /John&Vicki May
We are sorry for your loss,may God comfort you now and always.What a wonderful person Joy was,she touched so many peoples lives. May she rest in Heavenly Peace.
Wednesday, July 10, 2019 10:25 AM
Offer Condolences