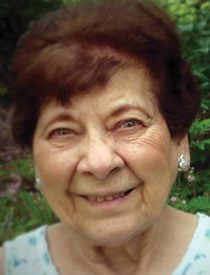 Katherine E. Reilly
7/11/1921 — 5/8/2017
Katherine Elizabeth (Jabbora) Reilly, 95, a resident of Lewiston since 1957, passed away peacefully Monday, May 8, 2017.
She was born July 11, 1921, in Moscow, to Thomas and Effie (Juhnke) Jabbora, the third of 10 children. She attended kindergarten through second grade at St. Rose's Catholic School in Moscow and moved with her family to Orofino in 1927.
While living in Orofino, Katherine taught herself to play trombone, violin and piano. She played basketball and was the first female drum majorette at Orofino High School, graduating in 1939.
She attended Lewiston Normal School (Lewis-Clark State College) from 1939 to 1941, majoring in education. She taught for two years in Kooskia before joining the Women's Army Auxiliary Corps (WAAC) in 1943. During her years of service, she was stationed at Fort Des Moines, Iowa, and Fort Totten, N.Y. She obtained the rank of sergeant first class, giving her the lifelong nickname, "Sarge." During her service, she met the love of her life, Robert J. Reilly, who would throw snowballs at her window to get her to have breakfast with him on Sunday mornings. They fell in love, and she married her Irishman on June 16, 1951, at Fort Devens, Mass. Shortly after their marriage, they moved to Japan, where she was honorably discharged in 1953 as they welcomed their first son, Robert. The family moved to the Presidio in San Francisco and had their daughter, Kay, in 1956. They resided in California until 1957, when her husband was transferred and served in the Korean War. At that time, the family moved to Lewiston and welcomed their third child, Richard, in 1958.
Katherine was employed at the Lewiston Orchards Irrigation District (LOID) from 1958 to 1963. During this time, she went back to school to renew her teaching certificate and graduated in 1963. She taught for 28 years at Tammany Elementary School, primarily teaching the third grade. During this time she touched many students' lives, and throughout the rest of her life, she was fondly remembered as "Mrs. Reilly, my third-grade teacher." Katherine frequently was recognized by her former students - they would catch up on their lives, reminisce about their days at Tammany and acknowledge how much of an impact Katherine had on their lives. She retired from teaching in 1991, and even after retiring she continued to substitute teach and enjoyed nurturing her grandchildren's lifelong love of learning.
She did have fruitful retirement years. She went on many trips with her children and grandchildren, including Maui, Hawaii, Disneyland, the Oregon coast, Texas, Laughlin, Nev., and Las Vegas. She celebrated her 87th birthday fishing on the Kenai River in Alaska. In addition to traveling, she loved playing pinochle, dancing, playing her organ, going to the casino, gardening, painting and fishing.
In 2004, Katherine was nominated and included in the World War II Women's Memorial by one of her former students. In 2012, she saw the memorial in person when she traveled on the Inland Northwest Honor Flight to Washington, D.C. She was celebrated by civilians from coast to coast and met young women in the service, for whom she paved the way and served as inspiration.
She was an active member of the Lewiston Catholic Community and a member of the American Legion Post No. 13.
Katherine is survived by her children: Bob (Anna Maria) Reilly of El Paso, Texas, Kay (Sherman Fike) Reilly Packer of Lewiston, and Dick (Karen) Reilly of Meridian. She also is survived by her brother, Richard (Bertha Mae) Jabbora, of Bellingham, Wash.; sister Dorothy (Jerry) Johnson, of Las Vegas; and many nieces and nephews. She will be dearly missed by her grandchildren: Mary Packer, Krisi Packer, Kimberly (Henry) Funk, Matt Reilly, Iris (David) Marston, Spencer Reilly and Maegan (Will) Krahn; and great-granddaughter Brynn Krahn. She was preceded in death by her parents, Thomas and Effie (Juhnke) Jabbora; her husband and best friend of 45 years, Robert J. Reilly; brothers Joseph Jabbora, Pat Jabbora and Fred Jabbora; and sisters Mary Crabb, Virginia Bradley and Joan Eikum.
A funeral and rosary will be held Saturday. The rosary will begin at 10 a.m., followed by Catholic services at 10:30 a.m. at Vassar-Rawls Funeral Home, 920 21st Ave., in Lewiston. Burial with full military honors will immediately follow at Lewis-Clark Memorial Gardens, 3521 Seventh St., Lewiston. Katherine always loved hosting friends and family, so please join us to celebrate her wonderful life.
The family suggests that memorial donations be made to the Lewiston Independent Foundation for Education (L.I.F.E.), 3317 12th St., Lewiston, ID 83501; or www.life-inc.org.
Service Information
Date & Time

Saturday, May 13, 10:30 AM

Location

Vassar-Rawls Funeral Home
920-21st Avenue
Lewiston, Idaho 83501

Get Directions

Additional Details

Rosary will begine at 10:00 a.m. and the burial will follow the service at Lewis-Clark Memorial Gardens.
Offer Condolences