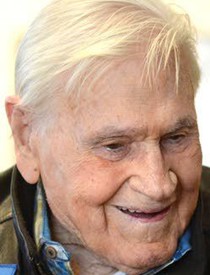 Kenneth H. Merrill
9/24/1924 — 11/12/2018
As our nation remembered its war veterans, Kenneth Henry Merrill passed away Monday, Nov. 12, 2018 — a fitting departure date for a true American hero.
Ken was born Sept. 12, 1924, in Hayden, Ariz., where his father Roy Merrill was working in the copper mine. The family moved to Gilbert, Ariz., in 1925, and then to nearby Mesa in 1930, when his father was elected constable of the Mesa precinct. Ken's oldest sister and mother died in 1932 of typhoid fever when he was 7 years old, leaving seven children. At age 15, Ken moved to Globe, Ariz., to live with his recently married older brother, "Chick" (Philemon Roy), and his wife, Fern. They had a close relationship throughout their lives.
Soon after the U.S. entered World War II, Ken's patriotism rose to the forefront. Because he was underage, Ken convinced his brother Chick to sign an approval form for him to join the U.S. Marines. Ken enlisted, promising his brother and father he would complete his high school education after the war. Physically fit and hungry to be part of the action, Ken was hand-picked to join the Second Raider Battalion, an elite unit and one of America's first special operations forces, led by the now legendary Evans Carlson. At age 17, Ken was the youngest of Carlson's Raiders, and Carlson took Ken under his wing. Ken always spoke of him with the highest esteem, regarding Carlson as a father figure. Ken is one of the last of the original Raiders and is affectionately known as "Mudhole," a nickname given to him by James Roosevelt, Carlson's executive officer.
Ken's patriotism and great respect for the flag continued throughout his life. Later generations of Marines, including the new generation of Raiders, knew well the epic accounts of Carlson's Raiders on Makin Island and Guadalcanal, and would flock to Ken for advice, or simply to meet the renowned and revered warrior. Ken loved these meetings and was infinitely proud of the young Marines.
Ken had a great love for people and animals and happily greeted others with a loud "ya at eeh." Everyone who met him could feel that he was special and unlike anyone they had ever met. His warm attention and love extended to vanilla Cokes, Jell-O, Mexican food and watching football.
Kenneth was an active member of The Church of Jesus Christ of Latter-day Saints, and was lovingly taken care of during his last years by his stepdaughter, Kristin, and her husband, Reid Folsom, of Clarkston, and their family. He was preceded in death by his parents, Roy and Clara Matilda "Tillie;" brothers Philemon Roy "Chick" and Dwain; sisters Delia Prejetta "Jetta" Merrill, Phyllis Welker, Marjorie Carson and Clara Ruth Carpenter; wives Elaine (Trojanovich) Merrill, Martha (Dear) Merrill, Evelyn (Gardner) Courtright Merrill and Barbara (Ray) Townsend Merrill; daughters Joyce (Ruble) Curtis and Mary Ann (Miller) Adams; son Kenneth H. Merrill Jr.; and grandson James M. Ruble.
He is survived by his youngest sister, Nelda Lynn Adair of Kirtland, N.M.; daughter Clara Lynn Linn of Reno, Nev.; and several grandchildren and great-grandchildren.
If the Army and the Navy ever look on Heaven's scenes, they will find the streets are guarded by United States Marines. Godspeed, Ken. Semper Fi. Gung Ho.
Funeral services will be held at 1 p.m. Saturday at The Church of Jesus Christ of Latter-day Saints, 532 S. Greenfield Road, Mesa, Ariz. A viewing at 11:30 a.m. will be held prior to services. Interment will take place at the city of Mesa Cemetery.
A memorial for Ken will be held 11 a.m. Dec. 1 at The Church of Jesus Christ of Latter-day Saints, 1123 16th Ave., Clarkston.
Service Information
Date & Time

Saturday, December 1, 11:00 AM

Location

The Church of Jesus Christ of Latter Day Saints - Clarkston Chapel
1123-16th Avenue
Clarkston, Washington 99403

Get Directions
Offer Condolences