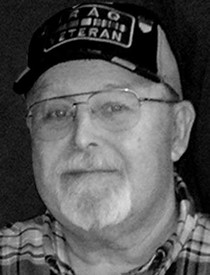 Kenneth R. Meek
4/30/1950 — 3/24/2018
Kenneth Roger Meek passed away Saturday, March 24, 2018, at the veterans home in Lewiston after a short illness. A celebration of life with a covered-dish dinner will be held from noon to 4 p.m. Saturday at the Veterans of Foreign Wars Hall in Lewiston. The family invites all who knew him to join us in remembering Ken.
Ken was born April 30, 1950, in Lewiston to Harold and Alice Meek. They lived in Normal Hill at the edge of town. The location was perfect for exploration, forts, long bike rides and roller skating. Ken's father was a Boy Scout troop leader, and Ken participated in the Boy Scouts for many years. Following his mother's passing in 1962, his father married Lenore Sweet, and the family moved to the Orchards. Ken attended Sacajawea Junior High and graduated from Lewiston Senior High in 1968.
After graduation, Ken worked and attended community college and eventually met his future wife. He married Deborah Florence in 1972, and they had two sons, Shaun and Seth. Ken liked to take the boys camping, hunting and riding on all-terrain vehicles. He loved to take his motorcycle out on the open road, sometimes bringing an eager Seth along for the ride. Ken and Shaun enjoyed the challenge of building model airplanes together.
After starting his family, Ken became a firefighter for the city of Lewiston Fire Department. He served as a firefighter for 22 years. After he retired from active firefighting, he taught firefighting classes at rural fire stations in Idaho. He also enjoyed swimming and teaching scuba diving. He was an avid science fiction fan and collected Star Trek novels and model spaceships. He also collected replicas of fire engines.
Ken proudly carried on the Meek family tradition of military service by serving in the U.S. Army Reserves Firefighting Unit 907th Engineering Platoon, and he was sent to the Middle East during Desert Storm (1990-91). Ken's unit was based in Clarkston. Before Desert Storm deployment, he completed training at Fort Lewis in weapons, chemical warfare defense and emergency medical treatment. He also was deployed to Honduras during his Army Reserve service.
Ken was preceded in death by his father, Harold Edward Meek; his mother, Alice Margaret Meek; and his stepmother, Lenore Helen Meek.
He is survived by his wife, Deborah Meek; sons Shaun Meek and wife Angela, and Seth Meek and wife Kim; grandchildren Mikaela Mundell, Wesley Meek, Dokota Goad, Owen Northam and Samantha Meek; great-grandson Jace Mundell; sisters Carol Hines and family, and Donna Meek and family; and brothers Thomas Meek and family, Jake Sweet and family, and Michael Sweet and family.
Offer Condolences