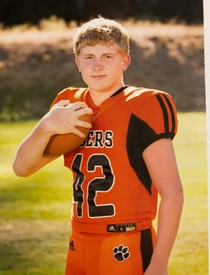 Kolby M. Anderson
5/12/2004 — 6/3/2020
Kolby Michael Anderson, 16, devoted son, brother, grandson, nephew, cousin, friend and loyal Kendrick Tiger passed tragically due to a car accident on Wednesday, June 3, 2020.
Kolby was the older brother to Keegan, born to Mathew and Heather Anderson on May 12, 2004, at St. Joe's Hospital in Lewiston.
His younger years started at Teresa Ireland's daycare in Juliaetta and then on to preschool through high school with many of his current classmates, who are now his best friends. Kolby made a huge mark on many hearts.
Kolby would have been a Junior at Kendrick High School this next fall and was already planning for another great school year. His passion for life was indescribable. He was academically and athletically gifted. He lived each day as if it were his last. His quick wit, humor and beautiful little smirk would light up the room. He had a smile that could melt your heart.
Kolby was not a "half-assed" kid, he did everything with results in mind. He was so personally driven and beyond coachable. He strived to "be better" and encouraged others to be better too. Kolby earned the "Tiger Award" for his great work ethic, determination, sportsmanship, leadership and great respect in school and community. This tells you what an amazing young man Kolby was.
Family was so important to him. He spent many hours on the lake fishing with his Grandpa and Grandma Perezchica, trips to Arizona to visit them when they wintered away from home and even got to go to a Gonzaga Championship game while visiting them there. He had a memorable trip to Seattle to catch a Mariner's game with his Grandma and Grandpa Anderson as well. Kolby enjoyed the competitive card games with Keegan and Grandma Anderson. He spent many hours on the football field and in the weight room with his dad and was so proudly cheered on by his momma. These were just the few highlights that meant the most to him. Kolby made us all so proud.
Kolby is survived by his parents, Mathew and Heather; brother Keegan, grandparents, Rick and Kathy Perezchica and Karen Anderson; uncles and aunts: Derrick Perezchica, Britany and Chris Larson, Mike and Rachelle Anderson, Chris and Kasey Anderson, Paula and James Bielenberg and Josh and Brandie Anderson; cousins Hannah and Hank Larson, Bo and Shelby Anderson, Breanna and Kelsey Bielenberg, Kylie, Tyler, Katelynn, Tanner and Tona Anderson; as well as many other extended relatives and a whole community of special friends and Kendrick Tiger families.
Kolby was preceded in death by his Great-Grandpa and Grandma Hobbs and Grandpa Mitch Anderson, who all loved him fiercely and were awaiting with their open angel wings to walk him through the Gates of Heaven.
Services will take place at 6 p.m. Wednesday, June 10, 2020, on the football field at Kendrick High School. This will be a "Friday Night Lights" on Wednesday as if Kolby and his team were preparing for a game. We will have a dinner following the services. Please bring a covered-dish and a lawn chair and wear your orange and black to represent his passion for "the game" and how passionate he was to be a Kendrick Tiger.
In lieu of flowers, donations can be made to #KOLBY'SFUND at P1FCU. #KOLBYFOREVER42.
Service Information
Date & Time

Wednesday, June 10, 6:00 PM

Location

Kendrick High School
2001 Highway 3
Kendrick, ID 83537

Get Directions
Condolences
Cindy (Jennings) Dennis
Dear Matt, Heather & Keegan,
My heart breaks for you. Please know you will be in my prayers during this difficult time.
Sending hugs.
Thursday, June 11, 2020 7:26 AM
Rob & Marie Strong
Our sincere sympathies on the loss of Kolby. Please know that we are praying for all of the Anderson family at this time.
Monday, June 8, 2020 1:11 PM
Offer Condolences