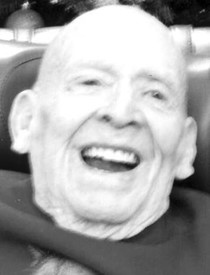 L. Dean Aman
6/3/1924 — 6/22/2015
Dean was born June 3, 1924, in Gresham, Ore., to Bertha Mae McCaw Aman and Leslie E. Aman. He spent his first five years at Endicott, where his dad was a teacher. In 1930, the family moved to Bonners Ferry, Idaho. Dean attended grades one through 12 there, graduating from high school in 1942. He completed one semester at the University of Idaho before enlisting in the U.S. Army Air Forces in 1943.
Because he had grown up with guns and hunting, Dean trained as a ball turret gunner on B-17s and was assigned to the 8th Air Force, 381st Bomb Squadron based in England. On his first bombing run to Germany his plane was shot down. Most of the crew parachuted into Belgium, where they were rescued and returned to England. After one week, Dean and the other survivors were back in the air, flying 34 more bombing missions.
When the war ended in 1945, Dean came home to Avery, Idaho, to visit his parents. There he met Ginny, a pretty redheaded schoolteacher and his lifelong love. He and Virgina Buell were married in June 1946.
Dean worked for the Milwaukee Railroad for nine years at Avery. During those years, he and Ginny built their log house in town along the St. Joe River.
Dean and Ginny moved to Lewiston in 1955 and began a wholesale/distributing business. In 1960, Dean joined Lucky Lager Distributing Co., working for 15 years as a driver salesman. He retired in 1986 after 11 years with the Idaho Transportation Department Special Crew.
Dean and Ginny loved traveling in the U.S. and overseas. They often visited their daughter in Guam, then went on to see much of Asia, Australia and New Zealand. They enjoyed a trip to Ireland, Scotland and England on their last journey together. Wherever they roamed, they were happiest when coming home to Idaho.
Dean became a full-time caregiver when Ginny was ill with leukemia. She was able to remain at home throughout her illness because of his devotion, loving care and attention. After she passed away in 2001, he spent lots of time at his vacation home in Elk River with his two pups, Sugar and Spice. In Lewiston, he planted huge vegetable gardens and raised chickens. Dean gave away most of the fresh eggs and produce to his neighbors, friends and the food bank. He was a generous, warm, funny, fun-loving man. Generations of neighborhood kids and their parents were welcomed at the Aman's backyard swimming pool. He donated to many organizations, especially those for children, veterans and animal charities.
Dean was preceded in death by his wife; parents; stepmother Hazel Aman; and daughter-in-law Carol Aman.
He is survived by his brother and sister-in-law, Wayne and Bernice Aman of Stevenson, Wash.; daughter Sue and son-in-law Wayne Yonemori of Las Vegas; son Jerry of Long Island, N.Y.; grandson Drew Yonemori and granddaughter Devon Yonemori, both of Las Vegas; granddaughter Ginevra Petrosky of Webster, N.Y.; and many Aman and Buell nieces and nephews, grandchildren and great-grandchildren.
Dean was loved by so many kind and caring neighbors and friends as well. His family is very grateful to the caregivers at Wedgewood Terrace and Royal Plaza for their excellent and attentive care.
Our precious Dad, Papa and Uncle Dean lived a good long life and brought so much joy and laughter into our lives. We loved him the most and will miss him more than words can say.
Honoring Dean's last wishes, cremation has taken place and there will be no service.
Offer Condolences