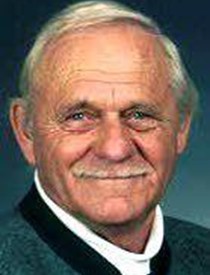 L. Walter Asbe
4/15/1935 — 8/27/2019
Lloyd Walter Asbe, 84, died Tuesday, Aug. 27, 2019, at home, following an extended illness.
Born in Kanawha, Iowa, on April 15, 1935, to Lloyd and Edith (Kalvig) Asbe, Walter moved between Oakland, Calif., and Kanawha throughout his childhood, graduating from Kanawha High School in 1952. He studied at Waldorf College (1955), where he met and married his wife, Eleanor Schaeffer, on June 26, 1955. He then attended Luther College, graduating in 1957 with a Bachelor of Arts degree in music education. After graduating, Walter began teaching music in McGregor, Iowa, then moved to Culdesac in 1960, before settling in Kamiah in 1962. He earned a master's degree in music from the University of Idaho in 1967.
Walter taught music and history at Kamiah middle and high schools from 1962 to 1990, and directed the Kamiah Valley Singers. Over the course of his career, he was awarded the Idaho Music Educators Association Music Teacher of the Year in 1987, the John Philip Sousa Award and was the first inductee in the Idaho Retired Music Educators Hall of Fame in 2004.
He served as president of the Music Educators Association of Region II for several terms between 1962 and 1990, and as music representative on the Board of Control for District II Interscholastic Activities, receiving an award for his work on the board. After retiring in 1990, Walter joined multiple choirs in the region, including the Palouse Chorale and the LCSC Chorale, directed the Lewiston-Clarkston Community Band in 2003 and played the upright bass for the Idaho County Orchestra in Grangeville.
Music was the lifeblood of Walter's life, driving his career and creating long-lasting bonds with his family, friends and community members. He was especially proud of his students who went on to become music educators themselves, and supported his children and grandchildren in their own musical pursuits.
An avid outdoorsman, Walter maintained many hobbies throughout the years. He owned horses throughout most of his life, naming them after Nordic mythological figures, and was a member of the Arabian Horse Club. During the summer, he fished on the Clearwater River; in the fall, he hunted for white-tailed deer and elk; and in winter, he skied at Brundage Mountain. Walter learned to sail in the 1980s, joining the Lewis-Clark Sailing Club and competing with his son in the Tribune Cup.
Religion was an important part of Walt's life and he was a lifelong member of the Lutheran Church. Walter was a member of the Sons of Norway, serving as vice president for several years, volunteering at events and holding a deep pride in his Norwegian heritage. A skilled woodworker, Walter specialized in chests and boxes, creating elaborate designs and clever latching mechanisms that became treasured gifts of his family and friends. After retiring, Walter and his wife, Eleanor, developed a love of travel, jet-setting across Europe and North America on choir tours and cruises. Walter took up golf at 70 and golfed at Orofino Golf Course and Quail Ridge Golf Course.
Walter was preceded in death by his grandparents; his parents, Lloyd and Edith; and his brother, Robert.
He leaves his wife of 64 years, Eleanor (Shaeffer) Asbe; his daughter, Holly (Mitch) Weisberger, and his son, Doug (Sandra) Asbe; his brother, Gary (Lori) Asbe; his granddaughters, Leah (Scott) Rumple, Kristin (Anish) Parmar, Laura (Erik) Asbe Luthy and Amelia (Kyle Brooks) Asbe; his great-granddaughter, Eleanor Rumple; his friend, Dale Blakely, and his wife, Claire; and the students and friends whose lives he touched throughout the decades.
A memorial service will be held at 11 a.m. Sept. 28 at Our Saviors Lutheran Church in Clarkston, with refreshments to follow.
Service Information
Date & Time

Saturday, September 28, 11:00 AM

Location

Our Savior's Lutheran Church
1115 13th Street
Clarkston, Washington 99403

Get Directions
Offer Condolences