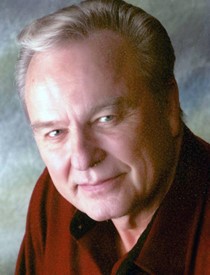 Larry J. Schroeder
3/24/1954 — 4/27/2021
Larry Joseph Schroeder peacefully passed away on Tuesday, April 27, 2021, after waging a tenacious and long battle with pulmonary fibrosis. We were in "overtime" and hoping for a score, but the fibrosis won. He was 76.
Larry was born in Yankton, S.D., on March 24, 1954, where the closest hospital to his family's farm was located. After his birth, he went home to the rural farm community of Bow Valley, Neb. There his parents, Ray and Hildegard, had an adjoining farm with his paternal grandparents, Fritz and Mary Schroeder, near Wynot, Neb. The two acreages created a 300-acre outdoor discovery and adventure space for Larry to roam during his early childhood years.
As a child, Larry started raising ducklings to sell, but the local wildlife kept stealing them. So Grandpa Fritz taught Larry to set a trap line and sell the pelts. He also taught Larry how to not stomp around the banks of Bow Creek when they went fishing, so as not to scare the fish away. Grandpa Fritz advised, "Always let the fish take the bobber down before jerking the line." Larry learned the importance of patience.
Later, Larry wanted to buy a horse for a hundred dollars. His dad agreed to the purchase if Larry raised most of the money and promised to take full responsibility for the animal. He saved all his gift money and rode his bike to the Bow Valley Dance Hall each week to collect beer and soda bottles, redeeming them for two cents each. Finally, he saved enough to purchase and name his new sidekick, Penney. Larry learned the value of hard work.
Most of all the wisdom Larry would need for a successful and fulfilling life was garnered on the family farm during those first 18 years. The perseverance and strong work ethic he developed at a young age became the model for how he lived his life. When he identified a need, he started a project and made sure it was finished, despite the obstacles. Larry was solution-driven and did not give up. He learned to encourage rather than discourage. He recognized the value of teamwork. Farming was a tough existence and the family's sense of humor sustained them through both the good and the bad. Larry inherited the contagious humor gene, gifting many moments of uncontrollable laughter to family, friends and colleagues. His delivery was flawless. He learned to love God, family and country. He loved that land. Everywhere else he lived, Larry would somehow manage to "farm," taking loving care of whatever piece of soil was available.
He attended first through eighth grades at St. Peter and Paul Catholic School in Bow Valley and graduated from Cedar Catholic High School in Hartington, Neb., Class of 1963. After graduation, he attended Nettleton Business School in Sioux City, Iowa, for one year. At 19, a family friend took Larry to the big city of Chicago where he moved into an apartment at 700 Wabash to attend Greer Tech, receiving a certified diesel mechanics degree. He then got a job with Chicago N. W. Railroad (CNW) starting in the mailroom. He progressed to rates clerk in Houston and advanced to chief clerk in Spokane, where he married his hometown girlfriend. Moving to Seattle, he was promoted to regional service manager and it was there that his two children, Jonathan and Stacy, were born. The marriage later ended in divorce.
In 1969, he moved to Lewiston for a job with Potlatch in the general office as a research analyst, eventually leading to a 42½-year career. His position as distribution manager of Idaho Pulp and Paper Board Group involved traveling to numerous foreign countries, meeting great people and making lasting friendships. He was known as the last man at Clearwater Paper to wear a white shirt and tie to work every day.
On May 12, 2001, Larry married his best friend and love of his life, Kathy Edwards, at Heller Bar up the Snake River with a boatload of family and friends who did not know they were attending a wedding. We never stopped having fun. Both being project-oriented, we created indoor and outdoor environments wherever we lived. By restoring this old house, the "Bridablik," we created landscaped gardens and entertaining areas throughout, sharing with family, friends and international business associates. Through restoration of floors, walls, baths and kitchen, it is returning to its original splendor. But even with all our projects, we always took time to make an annual trip back to the farm, usually during harvest time to play on the "big toys."
After retirement in 2011, we made our trek back to the farm and found the boys in the field repairing equipment. Larry walked up to them and said, "I'm looking for work with a 401K plan, company car and expense account." They replied, "You can have work alright, the 401K plan is out in the 'korn' field, the company car needs brakes, and the expense account is gas money for equipment." He took the job and never got off the machines. Larry loved his once-a-year job with all the perks. He was indeed a happy man.
In April 2015, we started on another adventure. We agreed to share our home with cruise boat guests from around the world, inviting them all inside to tour our home and hear its grand story. We were Stop 3 on the Hop-On-Hop-Off bus tours. Through our partnership with Idaho History Tours and the American Empress River Boat Co., Larry shared his stories, his humor and his genuine hospitality with over 9,000 guests during a five-year period. Our grandchildren, Zach and Samantha, enjoyed joining us for the tours.
Through all these years, Larry loved being with family, especially teasing Samantha. He made her believe he controlled the car radio by voice and that little invisible "gobsnoblins" really existed. He gave her funny nicknames and once she told her mother with her hands on her hips, "Papa is talking sailor talk to me." He also impressed upon her how much she is valued.
Grandson Jordan gave us a new status in life: great-grandparents of two beautiful children, Kellan and Gypy. Jordan gave the best hugs ever.
During the summer of COVID-19, we were able to enjoy a most memorable family vacation. We hugged, laughed, ate great amounts of food, played games and did crafts. We then came home to isolation with only brief visits at holidays and Papa Larry's 76th birthday. Samantha kept us posted on her college plans and Jordan brought the babies to love on Papa.
Larry was preceded in death by his grandparents, Joseph and Agnes Kneifl and Fritz and Mary Schroeder; parents Raymond and Hildegard Schroeder; brother LeRoy Schroeder; and bonus son Rodney Pierce Jr.
He is survived by his wife, Kathy Edwards Schroeder; children Jonathan Schroeder and Stacey Schroeder Stephens; grandchildren Daniel, Joseph and Raymond Stephens; bonus children Chad and Kellie Pierce; and bonus grandchildren Jordan, Samantha, Ethan, Zach and Kaylee Pierce.
A rosary will take place at 10:30 a.m. May 14, 2021, at St. Stanislaus Church, 633 Fifth Ave., Lewiston, followed by a Mass at 11 a.m. Father Joe Schmidt will officiate. A luncheon will follow in the Parish Center.
Service Information
Date & Time

Friday, May 14, 11:00 AM

Location

St. Stanislaus Church
633-5th Avenue
Lewiston, Idaho 83501

Get Directions

Additional Details

A Rosary will be recited at 10:30 a.m. at the church.
Offer Condolences