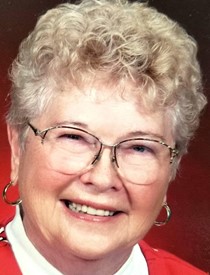 Laura M. Willett
7/6/1927 — 6/6/2021
Born to Ida and Peter Sand on July 6, 1927, at Greenwald, Minn., Laura Marie Willett moved to Clarkston with her parents in 1939. She graduated from Holy Family Catholic Grade School, and in 1945 graduated from Clarkston High School.
After graduation, she was employed at the Army hospital in San Louis Obispo, Calif., for six months. Returning to Spokane, she attended Kinman Business University, graduating in 1947. She came home to Clarkston and was employed as a bookkeeper and office manager with Willett Bros. in Lewiston. She married Keith Willett on March 9, 1950, in Spokane. During her marriage, she continued to work for Willett Bros. as credit manager and served as president of the board of directors.
She was a communicant of St. Stanislaus Catholic Church. She served as bazaar chairwoman and was a member of the parish council. She was a member of the Catholic Daughters of the Americas and served as secretary and also as regent. She was a member of the St. Mary's League and also attended a weekly Bible study. Every Monday morning, she served as Eucharistic minister for Catholic patients at St. Joseph Regional Medical Center, and each week Laura would visit church members who where home-bound and brought them communion and news of the church in the Lewiston-Clarkston Valley, which she did with much joy and happiness. She loved the one-on-one contact.
For many years, she was a member of the Lewiston Welfare League, now called Service League. Through this league, many jobs were performed, such as the hospital blood bank, well baby clinic, united fund drive and many others.
One of her greatest loves was Scouting. She served as a den mother for 15 years, and, with her husband, received the highest honor for adult leadership, the Silver Beaver Award. Her home was known by many young people who had family problems, for it was always open to them to stay for a day, week or longer. She and her husband enjoyed the outdoors and so enjoyed their second home at Rockey Point on Lake Chatcolet, Idaho. They were known as full-time volunteers for Heyburn State Park, located around Lake Chatcolet, and received the Volunteer of the Year Award in 1996 from the Idaho State Parks Department.
Laura enjoyed fishing, huckleberry picking and cutting wood for the winter at the cabin. Laura loved to be with family and traveled frequently to be with them.
Laura passed away Sunday, June 6, 2021. She is survived by three sons and one daughter: Steven, of Naples, Fla., Mike, of Eugene, Ore., Dan and Debbie, of Lewiston; brother Ed Sand, of Wenatchee; five grandchildren; and four great-grandchildren.
Her husband, Keith, preceded her in death on April 18, 1998; also seven brothers: Tony, Joe, Paul, Nickolaus, Fr. Peter, Fr. John and Bernard; and five sisters, Ann, Rose, Barbara, Cecilia and Judy.
A funeral Mass will be held 11 a.m. Friday at Holy Family Catholic Church in Clarkston. Memorial donations can be made to Holy Family Catholic Church or Holy Family School Foundation.
The family would like to thank Advanced Home Care & Hospice of North Idaho and Serenity Place Residential Care of Lewiston.
Service Information
Date & Time

Friday, July 2, 11:00 AM

Location

Holy Family Catholic Church
1109 Chestnut Street
Clarkston, Washington 99403

Get Directions
Offer Condolences