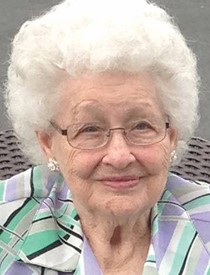 Leota Crisp
8/26/1926 — 1/15/2018
Leota Faye Crisp, age 91, died peacefully Monday, Jan. 15, 2018, at Life Care Center in Lewiston.
She was born Aug. 26, 1926, to Robert V. and Clara Hymas Sheen in Rupert, Idaho. She was the middle child of five children. She attended school in Rupert and graduated from Rupert High School in 1944. She was active in Thespian Club attended seminary all four years. She also was cheer queen her senior year and participated in the Minute Maids during the war years of World War II.
Leota started her working career at age 6 during the Great Depression, selling vegetables on the street corner from her mother's garden. At age 14, she began working at the candy counter of the local King's department store during the lunch hour and after school. After graduating from high school, she trained as a telephone operator.
In 1945, she met and married Wayne F. Watson, and they moved into their home in Hazelton, Idaho, where they raised their family.
During the 1960s and '70s, she worked for Ore-Ida Foods in Burley, Idaho, as the assistant personnel director. Leota and her husband moved to their farm on Kasota Road near Paul, Idaho, in 1968. She was a lifelong member of the Church of Jesus Christ of Latter-day Saints and served in nearly all the organizations over the years. She was involved in the Kasota Sagehens women's group.
Leota was an avid gardener who shared her abundant crops with friends and family. She also loved her flowers. She and her husband especially enjoyed dancing and bowling in her younger years. She also enjoyed camping, fishing and hunting trips with her family. Because of her writing talents, Leota was frequently called upon to write poetry for family and friends' special occasions. She was famous for her unbounded enthusiasm for life and her deep interest in everyone she met. She had a way of bringing out the best in people.
After her husband's death in 1991, she moved to Lewiston to be near her daughter. In 2002, she married Cleo Melvin Crisp, and together they shared his home in Clarkston until she went into the nursing home. Mel was a loving husband to Mom and an excellent caregiver following a stroke she suffered in 2009. The family wishes to thank Mel for the many years of wonderful care and devotion shown to our mother.
Leota was preceded in death by her first husband, Wayne Watson; her first child, Janice, who died at age 3; and two grandbabies. Also preceding her in death were her parents and her three sisters and their husbands. She is survived by her husband, Mel Crisp; son Wayne Roger Watson of Jerome, Idaho; daughters Connie (Rick) Kelly of Lewiston, and Denise (Mark) Lundquist of Swan Valley, Idaho; as well as her brother, Vernal (Roberta) Sheen. She also is survived by 14 grandchildren and 28 great-grandchildren.
Funeral services will be held at White Mortuary in Twin Falls at a later date, after which her ashes will be interred at Sunset Memorial Cemetery.
Offer Condolences