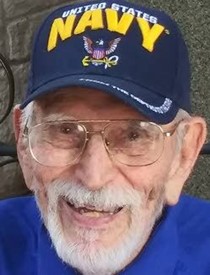 Leslie E. "Les" Huntley
2/7/1929 — 9/16/2021
Leslie "Les" Eldon Huntley died Thursday, Sept. 16, 2021, at University Village Memory Care in Round Rock, Texas. He was born Feb. 7, 1929, in Sebastopol, Calif., the second child of James "Guy" Huntley and Ada Poland Huntley.
During the Great Depression, the family lived in Nevada and California. They later returned to Idaho, settling near Westlake and later in Cottonwood. Les told many stories of his years growing up on the Westlake farm. He graduated from Cottonwood High School in 1948, the first of his family to hold a high school diploma. He served in the U.S. Navy from 1948-52 during the Korean War. He served aboard the USS Cavalier as a radio mechanic and was awarded the United Nations Korea and China Service Medals.
As a young man, shaped by the Navy and by years in the forests and oil fields and spurred on by a local builder's poor reputation, he decided he could build houses. He built a three-bedroom ranch home from plans to completion, starting with nothing except an idea and his good name. That home is still in use to this day.
Les completed his Bachelor of Science degree in physics at the University of Idaho in 1959. He married Donna Mae Leeper in 1960 and received into his home Donna's daughters, Darinda and Dreena. They later welcomed sons, Guy and Jason to the family. They moved to Boulder, Colo., where Les was employed by the National Bureau of Standards. (NBS is now called the National Institute of Standards and Technology). There, he was tasked with something then thought impossible: finding a way to measure high-frequency resistance. After careful thought and many calculations, he modified an existing instrument for the task. The resulting instrument was used in NBS calibrations for 40 years until replaced by a digital one. He described the project in a technical paper, the first of more than 40 published in his career. The Huntleys traveled all over the world, where Les spoke at measurements and standards conferences.
Retiring in 1994 after 30 plus years as an electrical measurements specialist, he continued to provide consulting services in the discipline. When health issues interfered with his ability to serve his clients, he closed the business and sought other ways to occupy his mind. He edited and typeset a personal history book for a friend as well as a history of Reubens, Idaho. He later wrote and published "Truth & Freedom, A Match Made In Heaven" in 2013.
A highlight of his late 80s was the Veterans Honor Flight to Washington, D.C., in April of 2016, escorted by his granddaughter, Lisa Uhlenkott. They toured several war memorials there and connected with many Navy veterans.
Les was an avid outdoorsman, marksman, camper, bowler, chess player, card player, square dancer, rock hound and amateur astronomer. He was very active in his churches in Washington and Idaho, serving as a Deacon at Emmanuel Baptist until he retired from active work in his late 80s. He loved gardening and tending his little orchard. He and Donna Mae gardened right up until they moved to Texas. The family took many camping vacations, picnics and Sunday drives throughout Colorado and Idaho. He and Donna Mae enjoyed traveling in their RV and wintered in Texas in it for many years. They moved to Texas permanently in 2019.
The family would like to thank University Village Memory Care of Round Rock for the outstanding care they provided Les.
He was preceded in death by his parents; siblings Albert, Marguerite Huntley Beckman, Dawn, Leland, Raymond, Myrick, Francis and James; and grandson, Keath Schmidt. He is survived by his wife, Donna Mae of Round Rock; brother, John Huntley of Delaware; children, Darinda Huntley (David Venters) of Bigfork, Mont., Dreena (Paul) Tischler of Round Rock, Guy Huntley (John Jacobson) of Chicago and Jason Huntley of Seattle; nine grandchildren, Lisa (Ted) Uhlenkott, Carin (Matt) Stronczek, TJ (Melissa) Schmidt, Royce (Glenda) Huntley, Anneka Huntley (Markham Sherwood), Allison, Mary, Gabriel, Marguerite and Benjamin Tischler; and eight great-grandchildren, Mikayla and Kolby Uhlenkott, Lucas and Bella Stronczek, Zita and Teddy Schmidt and Mary Ruth and Maxwell Huntley.
Interment will take place 10 a.m. Tuesday, Sept. 21, at Reubens Community Cemetery. A funeral service will follow at 1 p.m. at Emmanuel Baptist Church, 2200 11th Ave., Lewiston, ID, with Rev. John Stroupe officiating. The family requests memorials go to the Children's Camp Fund at Emmanuel Baptist Church.
Service Information
Date & Time

Tuesday, September 21, 2:00 PM

Location

Emmanuel Baptist Church
2200-11th Avenue
Lewiston, Idaho 83501

Get Directions

Additional Details

Burial will be at 10:00 a.m. at the Reubens Cemetery.
Condolences
Dee and Janet Huntley
So sorry for your loss
Tuesday, September 21, 2021 10:40 AM
Offer Condolences