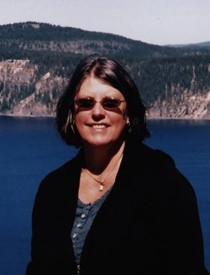 Linda F. Pecoff
10/5/1953 — 9/25/2021
Our hearts are forever shattered as our beloved wife, mom and dear friend has left us. Linda Fay Pecoff passed away peacefully Saturday, Sept. 25, 2021, at her home in Lewiston.
She was born Oct. 3, 1953, in Lewiston to Edwin and Mae Hanks. The only daughter, she was the second of three children with older brother, Eugene, and younger brother, Gerald. She grew up in Lewiston and graduated from Lewiston High School. After graduation, she waitressed until she met her first husband, Dan Quinlan. They married and she gave birth to her beautiful daughter, Angie and then four years later, had her handsome son, Will. She loved her children fiercely, from coaching baseball to becoming a brownie leader for Girl Scouts. She enjoyed nothing more than spending time with them. This love would flow over to all of her children's friends and she became their second mom.
In 1992, she met the love of her life, Hank Pecoff, and they married in March of 1994. They were a matched set and spent 26 years as partners in life, business and love. As always, Linda had more than enough love to share and welcomed her new step-daughter, Danielle into her family. Her life with Hank was filled with family dinners, reunions, boating on the Snake River, cross country skiing, watching jet boat races, hiking and most of all, trips to the Oregon Coast.
Linda had a variety of careers throughout her life. She worked as a house cleaner, office manager for Advanced Fire Protection and massage therapist. She delighted in her role as "Mommo" to her beloved grandchildren. You could find her cheering them on from the sidelines, chauffeuring them to gatherings and even cheerfully changing the "poopy" diapers of the littlest ones. She understood how to truly enjoy the good things in life, from travel to wine, from early morning tennis matches to late night bonfires. She was very active in her ladies' group and her vivacious personality, giggles and dance moves will be missed by all. Linda was a blessing, pure and simple. She brought love and kindness into the world around her and created a safe harbor for those of us she loved. Linda was a true master of the art of turning a house into a home, even if that home was merely a temporary tent or trailer. Her presence is felt all around us in the spaces we shared and her physical company will be missed by her family every day.
Linda is survived by her husband, Hank Pecoff of Lewiston; daughter, Angie (Eric) Olson of Lewiston; son, Will Quinlan of Lewiston; step-daughter, Danielle Pecoff (Anthony Leighton) of Portland, Ore.; brother, Gerald (Renita) Hanks of Yakima; sister-in-law, Rhonda Hanks of Milwaukie; granddaughters, Myah Olson, Allison Olson and Arianna Leighton; numerous nieces, nephews, cousins; and her Stella Lynn in love.
She was preceded in death by her parents, Edwin and Mae Hanks; brother, Eugene Hanks; aunts and uncles; and grandson, Mason Olson.
Service will be held at noon, Sunday, Oct. 24, at the Lewis Clark Hotel. A celebration of life will follow. Vassar-Rawls Funeral Home is in charge of arrangements. Please send condolences to
Vassar-Rawls.com
. For those that cannot attend the service, it will be livestreamed on the funeral home's Facebook page.
Service Information
Date & Time

Sunday, October 24, 12:00 PM

Location

Lewis Clark Hotel
11 Main Street
Lewiston, Idaho 83501

Get Directions
Condolences
Myrna Dover
I have so many fond memories of Linda. Our sons Will & Matthew grew up together. She was an awesome mom & friend. She had the best smile & lit up a room with it! I would see her over the years and always enjoyed catching up with her. Am so sad to hear she has passed. Prayers & hugs to all of you as you go through this difficult time. She'll always be in your hearts.
Wednesday, October 20, 2021 9:38 AM
Tony and Mary Kay Anegon
We were saddened to hear of Linda's passing. Hank and family, we wish you all the best going forward in a difficult time.
Tuesday, October 19, 2021 7:38 AM
Tony and Mary Kay Anegon
We were saddened to hear of Linda's passing. Hank and family, we wish you all the best going forward in a difficult time.
Tuesday, October 19, 2021 7:38 AM
Sherry L Greenup
I am truly sorry for your loss. I appreciate how much she loved Danielle and Ari. Also had a great time playing golf together.
Monday, October 18, 2021 8:18 AM
Larry Ohman
Very sorry to hear of Linda's passing. My condolences to Hank and the entire family.
Sunday, October 17, 2021 11:27 AM
David and Jane Risley
Jane and I wish you the best in this time of loss.
You are in our prayers.
Sunday, October 17, 2021 10:06 AM
Angie Beal
Awe Linda, so saddened to read of your passing. You were an amazing massage therapist to both my mamma and I, aside from that you were a kind and gentle soul that made anyone feel comfortable in your presence. We absolutely loved you! Since moving, I've never found a massage therapist that could hold a candle in the wind to your healing touch. You'll be greatly missed Linda. Sending heart felt condolences to your family, may the cherished memories provide comfort during this extremely difficult time.
Sunday, October 17, 2021 8:15 AM
Offer Condolences