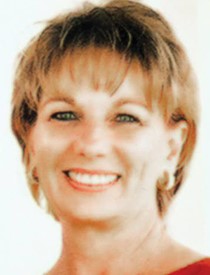 Linda L. Martinson
11/8/1953 — 2/18/2018
Linda Lou Martinson passed away Sunday, Feb. 18, 2018, in Lewiston, after a courageous two-year battle with cancer. She was 64.
Linda was born Nov. 8, 1953, in Berlin, Wis., to Wendell and Eva (McCue) Wendt. Her family settled in Lewiston in 1961. She graduated from Lewiston High School in 1972. Linda married Ed Martinson on June 15, 1987, in Lake Tahoe, Nev.
Linda was known by many and loved by all. She was especially known for her beautiful smile, sense of humor and her overall love for life. Being a mother and grandmother were her most treasured roles.
She was a co-owner of Martinson Insurance for 30 years and served 10 years on the Boys and Girls Club board of directors. From 2005 to 2014, she volunteered on the foundation board of St. Joseph Regional Medical Center, where she served on the Foundation Executive Committee and was named a distinguished trustee by her peers. She was co-chairwoman of the Century Club committee for eight years and served on the Scramble for Health golf tournament, Winefest event and was on the Carondelet House Steering Committee. Linda was elected president of P.E.O. Chapter BR from 2004 to 2005 and also was involved with Organization X, which raises money and donates supplies for those in need.
Linda was a breast cancer survivor after being diagnosed in 2012. In 2015, she was diagnosed with adrenal cortical carcinoma (ACC), a rare, one-in-a-million form of cancer.
Linda is survived by her husband, Ed Martinson; children Sheri Morgenstern (JR Rodriguez) and Clay Stout (Breeana); parents Wendell and Eva Wendt; brothers Darwyn Wendt (Linda), Doug Wendt (Sue) and Henry Wendt (Stacey); stepsons Jeff Martinson (Kevin Tran), Scott Martinson (Rebecca), Chris Martinson (Keri) and Todd Martinson (Rebecca); and stepdaughter Ronni Henry; as well as 14 grandchildren and one great-grandchild.
A memorial will be held at 11 a.m. Saturday at the Episcopal Church of the Nativity, 731 Eighth St., Lewiston, with Rev. Mary Ayers officiating.
The family requests that any memorial donations be made in Linda's name to www.acccure.org to fund adrenal cancer research.
Vassar-Rawls Funeral Home has been assisting the family. Please sign the online guest book and leave a memory at www.vassar-rawls.com.
"I love you more."
Service Information
Date & Time

Saturday, March 3, 11:00 AM

Location

Episcopal Church of the Nativity
731-8th Street
Lewiston, Idaho 83501

Get Directions
Condolences
Marv and Jackie Forsmann
Edwin, So sorry to hear about Linda. We are in Arizona so will not be able to make it to the service on Saturday. Our thoughts and prayers are with you and your family.
Tuesday, February 27, 2018 6:14 AM
Steve Rice
While I have not seen much of Linda over the last several years I will always remember her as a loyal and faithful person when she worked at our firm. She was always willing to do more than was required. She will long be remembered by her family, friends, and community to which she was devoted.
Monday, February 26, 2018 11:29 AM
Rebecca Wietzke
The entire Wietzke family prays that all who love dear Linda will find comfort in the presence of Christ at this time. Linda's life brought joy and blessing to so many and shone as an example of grace and faith. Rejoice in the promise of eternal life in Jesus.
Sunday, February 25, 2018 4:14 PM
Gemma and Roxie
The most beautiful angel is watching over us now. We love you Grandma.
Sunday, February 25, 2018 10:22 AM
Jerene and Pete Gertonson
Linda was one of my very favorite ladies when I worked at the Country Club. She was always friendly and down to earth. Rest In Peace, my friend.
Sunday, February 25, 2018 10:00 AM
Rich & Mary Barker
Our hearts go out to all of you. Linda was an amazing lady, and we have many fond memories of her. She will be greatly missed by all of us.
Sunday, February 25, 2018 8:56 AM
Sheri Morgenstern
I love you more! ❤️
Sunday, February 25, 2018 8:52 AM
Linda Bell
Ed, so many people are thinking of you. God Bless you and your family. Please know I thought Linda was very special for many reasons, I will miss her so much.
Fondly, Linda Bell
Sunday, February 25, 2018 8:01 AM
Wendy Gies
My thoughts and prayers are with you all. Linda was one of my best friends while growing up. I loved spending time with her and know she will be so greatly missed. I pray for your comfort today, your peace for tomorrow, and your memories in the years to come.
Sunday, February 25, 2018 6:56 AM
Offer Condolences