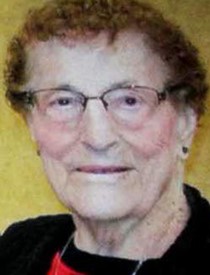 Lucille M. Merrill
11/7/1915 — 10/12/2018
Lucille Marie Merrill passed away Friday, Oct. 12, 2018, at St. Joseph Regional Medical Center in Lewiston.
She had gone to lunch at the senior center in Clarkston and was home a short time before becoming ill. Lucille was born Nov. 7, 1915, in Peola, Wash., to John and Alvina Flerchinger. She was delivered by Effie Young, a midwife. There were three boys and one daughter, Lucille, living on a farm outside of Peola with their parents.
She and Lynn Merrill were married in 1939, and they lived on a farm outside of Winchester. There they raised three girls and two boys. She and Lynn worked side by side; she grew a huge garden and did crafts and sewing while tending to her children and farm duties. Lynn passed away in 1973.
After the passing of her son, Michael, in 1974, she built and moved into a new home in Lewiston. Another son, Harvey Lynn, passed away in 1994. She was preceded in death by her parents, John and Alvina Flerchinger; three brothers, Wenzil, Herbert and Anthony; one sister who died in infancy; her husband; and children Harvey and Michael.
Her daughters, Delores (Glen) Morgan, Lewiston, Stella (Ray) Lohman, Kendrick, and Judy (Dick) Hastings, Pomeroy, survive Lucille.
Lucille had a passion for playing cards, mainly pinochle, and always liked to be winning. She also traveled a lot and saw most of the United States, including Alaska and Hawaii. She enjoyed telling of her many travels. She enjoyed her children, her many grandchildren, great-grandchildren and one great-great-grandchild. She was proud to tell that she was now a five-generation family and had many pictures taken to prove it. She enjoyed going out, playing cards, working on puzzles and crocheting. She has made and given away many afghans. Lucille was a member of the All Saints Catholic Church in Lewiston.
A graveside service will be held at 11 a.m. Friday at Normal Hill Cemetery in Lewiston. In lieu of flowers, please send donations to All Saints Catholic Church, 3330 14th St., Lewiston, ID 83501.
Service Information
Date & Time

Friday, October 19, 11:00 AM

Location

Normal Hill Cemetery
1122-7th Street
Lewiston, Idaho 83501

Get Directions
Offer Condolences