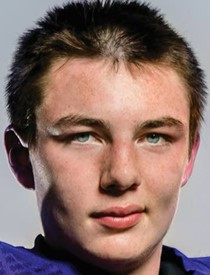 Luke Christopher
12/2/2000 — 6/10/2018
Luke was born in Lewiston on Dec. 2, 2000, and he planned a continued future in the valley. He ended his life at home on June 10, 2018, at the young age of 17. He attended Lewiston High School, finished his junior year and loved sports, football his most loved. Academically, he was an extremely smart young man who hated homework.
He was an eclectic young man. Proud to be nerdy, with a vast knowledge of history, pro football and basketball. He was fiercely patriotic and was proud of the freedoms afforded by our military. He was also proud of his Eskimo heritage. He also loved video games, Anime, reading, cartoons, action films, classic rock and classical music. He loved fine dining and not so fine dining: Coca Cola and filet mignon were his favorite.
He was most noted for his radiant, infectious smile and ability to make people laugh when they wanted to cry. He was a compassionate and loving person. From an early age he always wanted to help people and could recognize when they needed a shoulder, a smile or just a moment of peace.
Luke is survived by his parents, Ward Christopher and Anna (Beylund) Christopher; sister Danielle; grandparents Norma "Grams" Grenley, Delano "Pompa" and Mary Clark, and Addie "Grandpa Polar Bear" Beylund; and many beloved family, aunts, uncles, cousins, his football family, friends, classmates and his dog, Tank.
A memorial service will start at noon on Saturday at St. Stanislaus Church, 633 Fifth Ave., Lewiston, with a reception to follow. Gifts are suggested to the Willow Center for Grieving Children or his memorial GoFundMe.
Service Information
Date & Time

Saturday, June 30, 12:00 PM

Additional Details

Memorial Service at St. Stanislaus church, 633-5th Avenue, Lewiston Idaho.
Offer Condolences