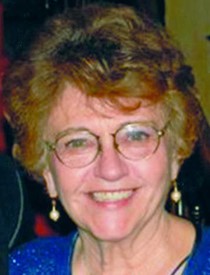 Lurline Henriod
6/14/1937 — 6/14/2018
Lurline Henriod passed away the morning of her 81st birthday, Thursday, June 14, 2018, at St. Joseph Regional Medical Center. She suffered a sudden and severe stroke, then quickly slipped into a coma.
She was born June 14, 1937, in Hollywood, Calif., to Steven and Jean Haley Stein. They divorced when Lurline was 1 year old, and though she was raised by her mother, she often spoke of the great summers she had staying with her father's parents at their cabin in the woods.
After graduating from Inglewood High School, she enrolled in Methodist Hospital School of Nursing in Arcadia, Calif., graduating with her registered nursing certification. During her last year, she went on a blind date to the new movie "Oklahoma" and met John Clayton Henriod, a handsome Marine, who stole her heart. They wed in April 1958 and recently celebrated 60 years together.
They lived in Ely, Nev., where they had two sons, then moved to Las Vegas, adding two more sons, before moving to Clarkston in the spring of 1966. There, they built their home and added a daughter to their family.
Lurline worked as an RN for Tri-State Memorial Hospital for 31 years until her retirement in 1999. She loved her work and those she worked with, and always had a healing and caring hand for anyone in need.
She was a dedicated member of the Church of Jesus Christ of Latter-day Saints, and had a deep and abiding testimony of the Savior. Her favorite way to express that love was through music, and she enjoyed singing in choirs or groups. Her favorite Christmas tradition was singing in the Christmas Fireside Choir.
Lurline was also a talented writer and composer. She wrote several small plays with music and had a flair for theatrics. As a die-hard patriot she loved her country and often wore a flag pin on her lapel.
She is survived by her husband, John Clayton; sons Timothy and his wife Katherine, James "Jim," David and his wife, Laura, and Kenneth and his wife, Debbie; daughter Leslie with her husband, Andrew Lightfoot; grandchildren Jared, Ben, Seth and Joselyn Huffaker, and Tanner, Steven, Lucas, Kasie, Kimmy, Caleb, Callista and Andrew Lightfoot; great-grandchildren Daysa, Triston, Ariana, Korban, Emmett and Klayton, and with two on the way.
She was preceded in death by her father and mother. She had no siblings.
Viewing memorial services are at 11 a.m. Tuesday at the Church of Jesus Christ of Latter-day Saints, 1123 16th Ave., Clarkston, followed by a graveside service at Vineland Cemetery.
Memorial donations can be sent to Vassar-Rawls Funeral Home. If sending flowers, please no lilies, because of allergies.
Service Information
Date & Time

Tuesday, June 19, 11:00 AM

Location

The Church of Jesus Christ of Latter Day Saints - Clarkston Chapel
1123-16th Avenue
Clarkston, Washington 99403

Get Directions
Condolences
Linda Knopes
My prayers and thoughts are with the Henriod family during this difficult time. Lurline was a wonderful woman and she leaves a beautiful legacy through her family.
Sunday, June 17, 2018 12:59 PM
Offer Condolences