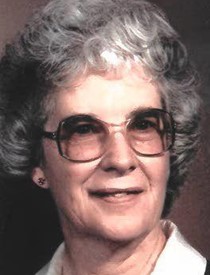 Lyda Linkhart
9/20/1926 — 10/28/2019
Lyda Linkhart, 93, passed away suddenly in her own home on Monday, Oct. 28, 2019.
She was born Sept. 20, 1926, in Indiana, to Archie and Vira Sexton, and was one of several siblings.
She graduated from high school in Indiana and started work as a bookkeeper, where she met and married Edward, a divorced man with two young sons, in 1963. They soon moved to Lewiston, where she spent the rest of her life.
Lyda was small in physical stature, but had a strong personality, which she demonstrated by surviving cancer. She was willing to perform tasks not "normally" done by a woman during the time period. She completed the basement of her own home when it was built more than 50 years ago. In this home, she and her husband, Edward, raised two young boys, Glenn and Robert.
Lyda was a wife, mother and continued bookkeeping work for Nez Perce County Free Library District and Orchards UMC. She also spent a lifetime volunteering as a worker or official for various organizations of YWCA, League of Women Voters, Merry Tillers Garden Club, Orchard UMC and as a Cub Scout den mother for Robert.
Lyda was preceded in death by two brothers, Lyndle and Archie; son Glenn; and husband Edward. She is survived by her sisters, Lorene Gorman, Louise Brown and Lela Townsend; brothers Charles and Terry Sexton; son Robert (Sarita); and grandchildren Glenda (Machelle Migneault) Smith and Sandra (James) Ward.
A memorial service will be held at 11 a.m. Saturday at Orchards United Methodist Church in Lewiston.
Service Information
Date & Time

Saturday, November 9, 11:00 AM

Location

Orchards United Methodist Church
1213 Burrell Avenue
Lewiston, Idaho 83501

Get Directions
Offer Condolences