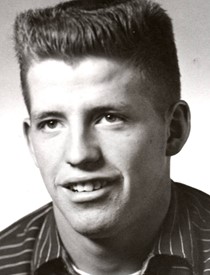 Lyle R. Skinner
8/28/1938 — 4/4/2021
Riding horses until he was 82 years young, Lyle Ray Skinner rode off into the sunset Easter Sunday, April 4, 2021, after a five-year rodeo with cancer. With his stated three choices — give up, give in or give it all you got — he shared a nonstop fighting and positive attitude, and plenty of good jokes.
Lyle was born Aug. 28, 1938, in Milo, Idaho, to Ray and Ruby (Morgan) Skinner. The family moved to Salmon, Idaho, where he became a big brother to sister Kay and brother Jim. In 1950, the family took root and established Skinner Black Angus Ranch in Baker, Idaho. Lyle's upbringing was centered around hard work, respect and family.
Lyle attended school in Salmon, and from grade eight through his senior year, was voted class president every year. After graduation (class of 1957), Lyle briefly attended college at the University of Idaho before returning to Salmon to do a multitude of jobs and work on the ranch. In 1961, he joined the U.S. Army and was stationed at Ft. Lewis, Wash., during active duty. He then enrolled at Washington State University to earn his degree in animal science. He continued service to his country in the reserves until being honorably discharged in 1967.
After graduation in 1969, he found his way back to the Lewis-Clark Valley. This is where he was introduced to a young schoolteacher named Eve Bennett. They were married March 20, 1971.
On a date with Eve, Lyle bought his own piece of heaven — a small house with a big barn — on Warner Avenue. After marriage, this is where he and Eve raised a family with two sons, Jeff and Ryan, and spent most of their time. They also enjoyed watching the growth — the new Lewiston High School, Lewiston Community Park and Skinner Canyon bike trail — develop around them.
Lyle never missed a ballgame — kids' or grandkids' — and his loud voice and encouragement was easily recognized. He loved picking up the grandchildren from school and spending time with them and their friends — pulling on their chore boots and heading to the barn to ride horses and track down barn cats. He loved his grandkids, and they loved their Papa, their own "real-life" cowboy.
Lyle worked a variety of jobs before starting his career with the Nez Perce County Road and Bridge Department, where he retired as supervisor after 20 years of service. He also was a member of the Nez Perce County Sheriff's Mounted Posse for more than 50 years, developing many lifelong friends, building great memories from the pack trips and sharing pride in serving the public when needed. In retirement, Lyle gained even more friends with his morning coffee groups.
He was preceded in death by his parents, brother and a special niece, Andrea.
Lyle is survived by his wife of 50 years, Eve, and their two sons, Jeff (Samantha) and Ryan (Michelle) Skinner, of Lewiston, along with four grandchildren: Madelynn, Hailey, Lincoln and Ashlynn. He also is survived by his sister, Kay (Steve) Feldman, of Twin Falls, in-laws, nephews and nieces.
Lyle is with his Lord and Savior in heaven. A celebration of life will be held at 2 p.m. May 6 at the family home.
Offer Condolences