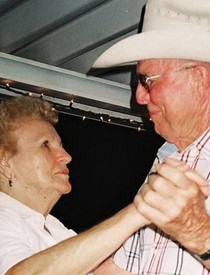 M. Wayne Burnam
5/5/1924 — 6/27/2018
On Wednesday, June 27, 2018, Mark Wayne Burnam passed away in his sleep at Avalon Progressive Care in Clarkston. You may have known him as Mark or as Wayne, but he was dad to us. He was born May 5, 1924, at Viola, to Guy and Agnes Winnifred (Keating) Burnam. His mother died at Colfax when he was only 3 years old. His father moved the family to Lewiston in 1932. Dad attended St. Stanislaus School, and Lewiston junior and senior high schools. In the early 1940s, dad worked as a ranch hand at Kirkwood Ranch and down in the Salmon River country. It was during this time he developed his love for horses and ranching.
Dad entered the U.S. Army at Fort Lewis, Wash., in February 1943. He went overseas in World War II with the 76th Infantry Division. He was given the nickname "Cowboy," which he loved. He was wounded in action in Germany on March 6, 1945, and was awarded the Purple Heart. He received a medical discharge in August 1945 with the rank of staff sergeant.
After the war, he worked for the U.S. Coast and Geological Survey and Idaho Department of Highways.
On June 9, 1949, he married the love of his life, Georgia Mae Burril, at St. Stanislaus Church in Lewiston. Together they raised five children. They moved the family to Asotin in 1956 and resided there, first in the city of Asotin, until 1972, then on an acreage on Asotin Creek, until 2008. They then moved to the Clarkston Heights. He and Georgia shared a love for livestock and ran a small herd of cattle for several years.
Dad worked for the Texaco Bulk Plant in Lewiston for several years, then spent the rest of his working years loading lumber in box cars by hand, first at Clearwater Lumber Co. at Spalding and then at Potlatch Corp. at Lewiston. After retirement, he drove Head Start school bus during the school year and trapped the gypsy moth insect for Idaho Department of Lands in the summer for several years.
Dad was very proud of his family and the children he and mom raised. He enjoyed rodeo competition throughout his life and competed in roping events into his 70s. He was very proud of his ability to rope horses, most that he had raised and trained.
He was a member of Our Lady of Lourdes Catholic Church, Holy Family Catholic Church, Moose and Eagles lodges and a lifetime member of the U.S. Team Roping Championships.
Dad is survived by his beautiful wife of 69 years, Georgia, who is in late stages of Alzheimer's at Avalon Progressive Care in Clarkston; daughter Jean Mattoon of Sandy, Utah, (Paul and Dan); daughter Rose Sprayberry of Clarkston and husband Charlie; son Grady Burnam of Asotin, wife Jeri (Windy); daughter Molly Klug of Vancouver, Wash., husband Rob (Gavin and Katherine); daughter Ellen Boatman of Lewiston, husband Mark (Alex); sisters Ruby Meyer of Eugene, Ore., and Ruthie Krueger of Lewiston, husband Harold; special stepgrandson Tracy Petragallo of Kennewick; numerous nieces, nephews and cousins who he loved more than can be put into words; and three great-grandchildren, with one on the way.
Dad was preceded in death by his parents; brother Oran Burnam; sisters Agnes McGill and Mary Kokta; and son-in-law John Mattoon. The family would like to thank Drs. Hansen, Gould, Wood, Rob Meyers and Eggleston for all of the care and love you showed dad, as well as longtime friend Larry Smith, whose timely phone calls brightened dad's life. He loved every one of you. There is also a special thanks to the ladies of Avalon Progressive Care. You brought joy to dad's life and he loved each of you.
Dad has been cremated, as requested, and services are planned for Saturday, July 28, 2018, at Holy Family Church in Clarkston, and burial at the Asotin City Cemetery, with the time to be published at a later date. Dad had so many friends and always had a smile. We find comfort knowing that he is no longer struggling and is riding his horses again.
Offer Condolences