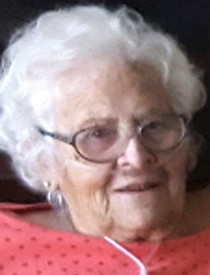 Mae Betty Rainville
5/5/1926 — 9/12/2018
Mae Betty Rainville passed away Wednesday, Sept. 12, 2018, at St. Joseph Regional Medical Center. She left a legacy with her family and the nursing community in the Lewiston area.
Mae Betty was born May 5, 1926, in Wapton, N.D., to Ralph L. and Josephine J. Piersol. She moved with her parents to Nampa and graduated from Council High School in Council, Idaho. After high school, she moved to Lewiston and attended the nurse cadet program through St. Joseph Hospital and later Lewis-Clark Normal School. She was one of the first diploma of nursing graduates of the program and was proud to wear her nursing cape and cap. After passing her nursing boards, she worked at St. Joe's, and then for Dr. Eastman for 14 years. Her next experience was for the State Health and Welfare Department. She reviewed Region 2 shelters and nursing homes for compliance. Along with this experience, she also was a director of nurses at Orchards Nursing Home. Her last job was back at St. Joseph Regional Medical Center, where she set up and maintained utilization review.
In 1947, Mae Betty married Lester Mauch. He later died. In 1963, she married Raymond D. Rainville. He died in 1968. Their son, Dennis, was born in July 1965. She spent the rest of her life with companion Frank Sheneman.
Mae Betty was an accomplished nurse but also had many other interests and honors. She was an expert in shooting and gained her small-bore marksmanship status. She received many awards for her marksmanship. She loved to fish, hunt and travel. She sang in the choir and was known for her beautiful voice at weddings and funerals. She and Frank were frequent snowbirds in Arizona and Mexico. She belonged to the Beta Sigma Phi sorority, the Elks Lodge, the Eagles Association, The Idaho Nurses Association and the Women of Lourdes. She was a member of Our Lady of Lourdes Catholic Church. In addition to serving as president of the Idaho Nurses Association, she was previously president of the Women of Lourdes. She was an excellent cook and enjoyed making meals for many of her family get-togethers. She and Dennis were once featured in the Lewiston Morning Tribune with some of her favorite recipes.
She was preceded in death by her parents, Ralph and Josephine; her husbands, Lester and Raymond; her partner, Frank Sheneman; her brother, Jerry Piersol; and her sisters, Helen Humphreys and Sara Nuxoll. She is survived by her son, Dennis Rainville (Lewiston); her sister, Kathaleen Johnson (Rathdrum, Idaho); and many nieces and nephews. She will be missed by all.
The rosary will be recited at 11 a.m. Tuesday, followed by a funeral Mass at 11:30 a.m. at All Saints Catholic Church, 3330 14th St., Lewiston. A luncheon will follow at the church. Ashes will be buried following the luncheon at Lewis-Clark Memorial Gardens at 3521 Seventh St., Lewiston.
Service Information
Date & Time

Tuesday, September 18, 11:30 AM

Location

All Saints Catholic Church
3330 14th Street
Lewiston, ID 83501

Get Directions

Additional Details

Rosary will be recited at 11:00 a.m.
Offer Condolences