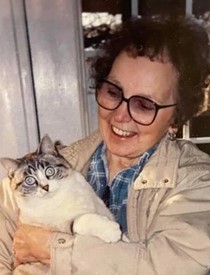 Marcella R. Smith
9/16/1936 — 1/21/2023
Marcella Rae Smith (Marcy Otto) blessed many people in her 86 years. She was born Sept. 16, 1936, to Art and Marjorie Otto in Craigmont. She was adored by her brothers Jerry and Ralph and she absolutely loved being the big sister to her brother, Ray. Her father passed unexpectedly, but she was thrilled when her mother remarried and she gained two beautiful sisters, Rosalea and Alice. Marjorie and Roy Whittum added Ron and Sherelyn to the family.
When Jerry first introduced Marcy to his pal, Bud Smith, Marcy recalled, "He was so good looking, I nearly choked on my biscuit!"
They were married in her family home on Dec. 15, 1951. She quickly fulfilled her childhood desire to "maul kittens" by building her own "fertility farm."
Bud and Marcy built that beautiful farm in Culdesac. They raised many children, cows, horses, pigs, chickens, goats, llamas and more. There was never an animal that Marcy didn't love.
Marcy joined her loved ones in heaven on Saturday, Jan. 21, 2023, in the home she and her family built with love.
She is survived by her husband of 71 years, Bud; her children Marcia (Loren), Rosey (Jim), Bud (Kim), Mark (Erion), Becky (Tim), Scott (Dorinda), Heather (Doug), Suzanne (Gary), Brady and Brianna (John); and her brother, Ron. She will be missed by her 27 grandchildren, 35 great-grandchildren and three great-great-grandchildren.
She was preceded in death by her parents, brothers, sisters, daughter (Natalie), three grandsons and many beloved pets and farm animals.
Daddy said it best: "She made a beautiful life for me and the kids." A celebration of her life will be planned for later this spring.
Offer Condolences